Three teens were stabbed in a brawl with knives and bats in Docklands, while a man is fighting for his life after he was attacked outside a Toorak nightclub in the early hours of the new year.
Despite these attacks, Victoria Police deputy commissioner Rick Nugent said most of Melbourne's revellers were "outstanding", even as nearly half a million people poured into the city on Saturday night to ring in 2023.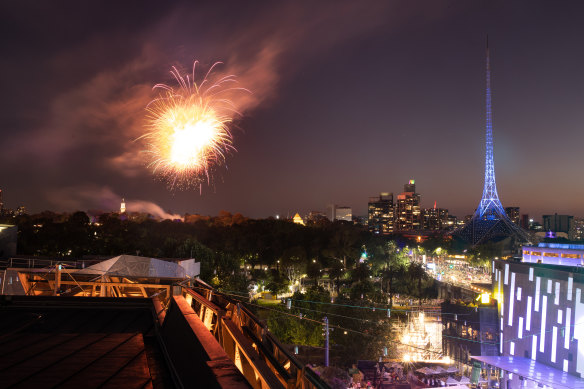 Revellers were outstanding on New Year's Eve, according to a senior Victoria Police officer.Credit:Simon Schluter
There were 49 arrests across Victoria overnight, with 19 of those for being drunk in public, Nugent told reporters on Sunday.
There were two reported rapes and 10 people arrested in connection to assault, robbery and affray offences, he said.
One of the most serious assaults involved a group of between 10 and 15 youths who fought at Docklands about 1.30am on Sunday, Nugent said.
"We believe them to be organised crime entities … resulting in three being stabbed and treated, and at this stage they are being unco-operative with police," he said.
He said knives and bats were used in the brawl.
Separately, four men were arrested after a 22-year-old man was attacked outside a Toorak nightclub about 3am.
"We understand that the victim may well have been leaving his place of work; he may well have just got back to his car, and the assault took place at his car," Nugent said.
He said it appeared the attack was unprovoked, and the victim remained in hospital with life-threatening injuries.
More than 4000 police officers were deployed across the state as Victorians celebrated the new year, and areas of concern were related to illegal fireworks and weapons. Police carried out more than 1700 searches and uncovered nine weapons.
"We identified or located … nine weapons, mostly knives, and eight people were arrested for those, mostly in the city and down along the beaches," Nugent said.
Lifesavers and lifeguards rescued 23 people across the state on Saturday.
That took the total number of rescues between November 12 and December 31 to 255. More than half of those (145) have been since Christmas Day, according to Life Saving Victoria.
Nugent said there was only one more arrest than for New Year's Eve 2021, and praised the behaviour of most of those out celebrating.
"I'm really pleased to report that the behaviour of the public last night across the state was outstanding," he said.
"The vast majority of the public celebrated respectfully and safely, right across this beautiful state of ours."
The deputy commissioner said he took to the streets himself and there was a positive and friendly atmosphere around Melbourne.
Our Breaking News Alert will notify you of significant breaking news when it happens. Get it here.
Most Viewed in National
From our partners
Source: Read Full Article