London: Scott Morrison is scrambling to redraw his vaccine program after surprise advice to not give the AstraZeneca vaccine to millions of Australians. Unfortunately serious hurdles still stand in the way of a quick solution.
The decision to not use the AstraZeneca jab on most Australians under 50 because of a likely link to a very small risk of blood clots is chiefly a numbers problem: more than 11.5 million people are aged between 18 and 50.
Prime Minister Scott Morrison with a vial of the Oxford-AstraZeneca vaccine in February. Credit:Getty Images
AstraZeneca was to be the workhorse of the country's program via 50 million doses manufactured at a factory in Melbourne. Australia has pre-existing contracts for 20 million Pfizer doses but that was not enough to make up the shortfall created by Thursday's late-night announcement.
Australia also has the rights to about 51 million Novavax doses but that vaccine is still undergoing trials in the US, has to be approved by the Therapeutic Goods Administration and won't be rolled out until the final quarter of the year at the earliest.
So where do the extra doses come from? Asking Pfizer for more supply is the clear answer, and the Morrison government has done well to announce on Friday a new contract for an extra 20 million doses on top of the existing 20 million. However don't celebrate just yet.
Pfizer uses a different type of technology to the AstraZeneca vaccine, so it can't be manufactured onshore. This means Australia's rollout is now more exposed to the uncertain and unpredictable global supply chain.
Duke University researchers estimated last month that about 6.3 billion doses of all vaccine types are currently under negotiation worldwide. Pfizer is facing huge demand for the 2 billion doses it plans to manufacture by the end of 2021. Demand is so hot that the American drug giant won't be able to send Australia the extra 20 million doses until the final three months of this year. So while the extra doses are good news, they will not arrive in time to vaccinate all Australians by October as the government originally promised.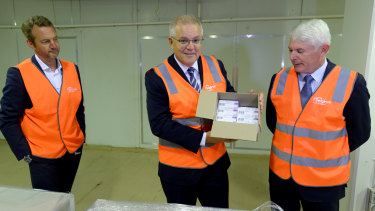 Prime Minister Scott Morrison, with Simon Buensch, executive director of manufacturing at CSL, and Dr Brian McNamee, chairman of CSL board, holds a box of AstraZeneca vaccines at the CSL factory in Melbourne last month.Credit:NCA
British authorities were also able to restrict AstraZeneca to under-30s with less disruption to its rollout because it has more options. The UK has rights to seven different alternatives to AstraZeneca, and two — Pfizer and Moderna — are in use already. Up to 30 million doses of the Johnson & Johnson jab might be available from July.
Australia only has Pfizer for its under-50s right now,and Novavax potentially later in the year. It is already in talks with Johnson &Johnson but will not touch others made by China and Russia.
In the meantime, the Australian public will debate whether to take what is for the extraordinarily vast majority a safe and effective vaccine that can help bring the pandemic to an end.
It would be a good idea to keep some perspective when calculating the risks. Based on current UK data, the chances of dying from a rare blood clot following an AstraZeneca dose stands at about 1 in a million. The risk of dying in a car crash is about 1 in 6700.
What in the World
A note direct from our foreign correspondents about what's making headlines around the world. Sign up for our weekly newsletter here. 
Most Viewed in World
From our partners
Source: Read Full Article