San Francisco: A series of fast-moving fires in the San Francisco Bay Area and elsewhere in Northern California – many caused by intense lightning storms – exploded overnight, burning homes and causing thousands to flee.
The newest fires stretched from wine country to the Santa Cruz Mountains, moving with ferocious speed amid an intense heat wave that also has brought rolling blackouts. Smoke from the fires has caused terrible air quality across the region.
A home burns along Cherry Glen Road during the LNU Lightning Complex fire in Vacaville, California. More than 100,000 people have been evacuated from the area.Credit:Bloomberg
Many of the fires were believed to have been caused by lightning strikes. Northern and Central California began experiencing an unusually active sequence of largely dry lightning strikes on Sunday, the most widespread and violent in recent memory in the Bay Area on one of the hottest nights in years, according to Daniel Swain, a climate scientist with the University of California, Los Angeles and the National Centre for Atmospheric Research.
In the 72 hours since, there were some 10,849 lightning strikes throughout the state.
As of Wednesday afternoon, Los Angeles time, 367 major fires were burning statewide, according to Governor Gavin Newsom.
"This fire season has been very active and, not surprisingly, that activity has taken shape in a number of counties up and down the state," he said during a news briefing.
The San Francisco skyline is partially obscured by smoke from the multiple bushfires burning in California.Credit:Bloomberg
At this time last year, crews had responded to a total of 4007 fires throughout the state, Newsom said. They've already been dispatched to 6754 this year.
More than 120,400 hectares have burnt statewide so far in 2020, according to the California Department of Forestry and Fire Protection, or Cal Fire. By comparison, California bushfires charred about 109,200 hectares in 2019, the smallest annual number since 2011.
The rapid outbreak of new blazes has stretched the state's firefighting resources to their limit.
Jeremy Rahn, the lead Cal Fire public information officer for the LNU Lightning Complex fire, said Wednesday that the state had already requested 375 additional fire engines as well as additional hand crews from out-of-state agencies, and hired "nearly all available private firefighting 'call when needed' aircraft in the western United States."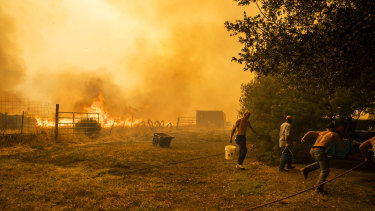 A family works to protect property as a fire approaches in Vacaville, California.Credit:Bloomberg
"The size and complexity at which these incidents are burning is challenging all aspects of emergency response," Cali Fire's Jeremy Rahn said. "Firefighting resources are depleted as new fires continue to ignite."
Newsom, however, expressed confidence that California was prepared to rise to the challenge and thanked the leaders of other states – including Arizona, Nevada and Texas – for their pledges to send additional resources.
California is "putting everything we have on these fires," he said, and "we're now getting the support of some of our partners in the Western United States, and for that, again, we're very grateful."
One of the fires, known as the LNU Lightning Complex fire, has burnt more than 18,000 hectares, and spans at least three major zones in Napa, Sonoma, Solano, Yolo and Lake counties.
So far, 50 structures had been destroyed, 50 more had been damaged and 1900 were threatened, fire officials said.
Officials have ordered the evacuation of the western edge of Vacaville – a city of 100,000 residents about halfway between San Francisco and Sacramento, among other areas.
Los Angeles Times
Source: Read Full Article