Westminster, Colorado: The mass graves outside Mariupol. The 64-kilometre-long long Russian resupply convoy. The theatre shelled despite the ground outside being marked with the word "children". The bodies strewn on the streets of Bucha.
All are enduring images of the war in Ukraine and all were captured by a satellite company nearly 10,000 kilometres away in Westminster, Colorado.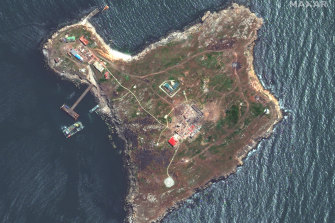 A satellite image provided by Maxar Technologies shows an overview of Snake Island in the Blacks Sea, where an early battle in the invasion of Ukraine took place.Credit:Maxar
The London Telegraph was given rare access to the sprawling 16,000-square-metre headquarters of Maxar Technologies by Daniel Jablonsky, the chief executive, who explained how this multibillion-dollar firm is helping the UK, US and Ukrainian governments gather intelligence on Russian forces in real time.
"Maxar is the coolest space and technology company in the solar system," said Jablonsky. It has built more than 300 spacecraft, engineered the robotic arms used by NASA's rovers on Mars and has plans to send a probe one billion miles into space, to orbit – and possibly land on – an all-metal asteroid that is 140 miles (225km) wide.
But its current focus is on the war in Ukraine. The company has four satellites in orbit between 310 and 480 miles above the Earth. Each the size of a small car and weighing around a ton, they travel at 10,000 mph and circle the globe every 94 minutes.
The satellites, which cost "tens to hundreds of millions of dollars" to build, are constantly scanning the Earth's surface, capturing 7.5-mile swathes of land at a time. The pictures are relayed to earth, processed and used to render a 3D image of the land.
A field peppered with craters caused by artillery, northwest of Slovyansk, Ukraine.Credit:Maxar
"We're collecting almost six million square kilometres of the Earth's surface every day," said Jablonsky, a nuclear engineer and former navy officer. "It would take a geospatial analyst – a classically trained expert at doing this – over eight decades to make their way through what we collect in a day. So what we're doing is running machine understanding across that to help us identify what's happening in particular locations at times that might be of interest."
Sometimes Maxar staff flag images to their clients, sometimes the clients "tell us where to point the cameras".
Images shared with The Telegraph reveal the nearly continuous and relentless bombardment and artillery shelling of villages and cities in eastern Ukraine as Russian forces attempt to gain control of the Luhansk and Donetsk Oblasts.
"Today's imagery shows significant damage in Severodonetsk, the primary city in Luhansk where Russian forces have been recently focusing their attacks and operations, and in Rubizhne," said Stephen Wood, Maxar's news bureau director.
Rubizhne is a key stepping stone on the road to Severodonetsk and was hit by as many as 1500 artillery shells a day before ground forces swept in. In the village of Dovhenke, new images show a fresh bomb crater 130ft wide.
It is not just Ukraine that relies on Maxar's capabilities. It has a number of clients, ranging from Google – where the satellite imagery is used for Google Maps – to the US and UK governments. In the past, it has worked with Russian companies. Since the invasion of Ukraine, it no longer does.
The work is lucrative. America's National Reconnaissance Office – part of the Department for Defence – has just signed a 10-year $3.2 billion (£2.5 billion) deal with the company.
"We've had a long-standing relationship with the UK Government," said Jablonsky. "Much of the Five Eyes structure for intelligence – the UK, Canada, New Zealand, Australia and the US – have a very, very close partnership and we've been part of servicing that close partnership for a long period of time."
The landscape for satellite imagery has changed dramatically. "The resolution is much, much better for a start," said Wood. But speed is also of the essence. "Ten years ago, we would be getting some of the imagery downlinked, processed and ready to send out within a day, maybe a couple of days. Now, we're in a matter of hours. In some cases, less than an hour.
"That becomes really important to military users and national security clients who are actively using this for actionable information."
Walter Scott, Maxar's chief technology officer is affectionately known as the "godfather" of the commercial satellite industry. With the latest images, governments are able to act "on the basis of facts instead of on the basis of fears," he said. "One of the values of global transparency is that you're not having to guess. You actually know what's going on."
The Telegraph, London
Get a note directly from our foreign correspondents on what's making headlines around the world. Sign up for the weekly What in the World newsletter here.
Most Viewed in World
From our partners
Source: Read Full Article