For the next three weeks, the integrity of American democracy is in the hands of people like Norman Shinkle, a proud Michigander who has, until recently, served in relative obscurity on the state board that certifies vote results.
But now Shinkle faces a choice born from the national election turmoil created by President Donald Trump, his preferred candidate, for whom he sang the national anthem at a campaign rally in Lansing, Michigan, last month.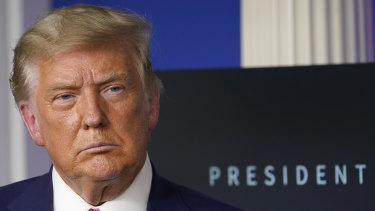 US President Donald Trump. Credit:AP
Shinkle's duty, as one of two Republicans on the four-member board, is to validate the will of Michigan voters and certify President-elect Joe Biden's victory before the Electoral College vote Dec. 14. Yet Shinkle is weighing whether to block certification at a board meeting scheduled for Monday, because of minor glitches that Trump and his allies have baselessly cast as evidence of widespread, election-invalidating fraud.
He said he had received hundreds of phone calls, emails and text messages from people for or against certifying. "You can't make up your mind before you get all the facts," he said.
That Shinkle is equivocating over a once-routine step in the process — despite all 83 state counties submitting certified results and Biden leading by 154,000 votes — shows the damage inflicted by Trump on the American voting process and the faith that people in both parties have historically shared in the outcome of elections.
But this is also a moment of truth for the Republican Party: The country is on a knife's edge, with GOP officials from state capitols to Congress choosing between the will of voters and the will of one man. In pushing his false claims to the limits, cowing Republicans into acquiescence or silence, and driving officials like Shinkle to nervous indecision, Trump has revealed the fragility of the electoral system — and shaken it.
President-elect Joe Biden.Credit:AP
The president's clout with his party is reinforced by the widespread support he has from millions of Americans; almost 74 million voted for him this year.
Former Senator Jeff Flake, a staunch opponent of Trump, has urged Republicans to recognise Biden as president-elect. But he noted that Republicans worry about alienating Trump when they need his help for the upcoming Georgia runoffs, which will decide control of the Senate.
"If the Republicans abandon him, he may just abandon them," he said.
Trump's baseless argument that this is still an election up for grabs was prevalent in interviews with Republicans across the country Friday.
Ginger Howard, a Republican national committeewoman from Georgia, said she still believed there were other avenues for Trump to pursue, despite the state's certification of Biden as the winner there.
"There's still recourse for sure, we've got some other options," she said Friday without elaborating.
Jason Thompson, who represents Georgia to the Republican National Committee, also echoed Trump's unfounded scepticism.
"It's not like I'm saying there's no way he won," he said. "All I'm saying is we'll never know for sure."
Some Republicans interviewed cited Trump's legal challenges as grounds to believe the race was not over — even though judges have overwhelmingly rejected the president's claims.
"There are questions regarding votes in several states, and until those matters have been fully litigated it would be premature for him to concede the election," said Bruce Ash, a former Republican official in Arizona. Election officials across the country have said that there is no evidence of voter fraud or other irregularities that shaped the race's outcome.
Senator Pat Toomey of Pennsylvania, a Republican, acknowledged in a statement to The New York Times that, "I have not seen any proof of widespread election fraud in Philadelphia or anywhere else in Pennsylvania."
Yet he affirmed Trump's right "to pursue litigation" and would only go so far as to say "all signs indicate" that Biden was "likely" the next president. (After the latest judicial loss for Trump on Saturday night, Toomey issued a statement congratulating Biden and Vice President-elect Kamala Harris on their victory and urged Trump to "accept the outcome" for his own legacy and "to help unify our country.")
Representative Seth Grove, a Republican in the Pennsylvania House of Representatives, declined Friday to say that Biden had won the state. "The president's just exercising his legal rights,'' he said. "At the end of the litigation, it's going to be Biden or Trump."
In Pennsylvania, Trump has less opportunity to try to block certification than he does in Michigan and Wisconsin, where he has requested recounts in two counties. After the state's 67 counties certify their votes — the deadline is Monday — they go to Secretary of the Commonwealth Kathy Boockvar, a Democrat, who has sole power to certify state results.
In Michigan, the president's opportunity is limited if not nonexistent. On Friday, the state Bureau of Elections submitted its formal report recommending that the canvassing board affirm Biden's win. Errors in some vote tabulations, which Trump has seized upon, were "attributable to human error,'' and "did not affect the actual tabulation of votes," the elections bureau said.
That, said Christopher Thomas, an election adviser to the city of Detroit, means the canvassing board is obligated to affirm the vote. "The law doesn't say you can decide or not — the law says if you get certified returns you go ahead and do what you're supposed to do," he said.
The New York Times
Trump Biden 2020
Understand the election result and its aftermath with expert analysis from US correspondent Matthew Knott. Sign up to The Sydney Morning Herald's newsletter here, The Age's here, Brisbane Times' here and WAtoday's here. 
Most Viewed in World
Source: Read Full Article