A former student at Rupertswood Salesian College in Sunbury has received a $1 million legal settlement more than 30 years after he was raped by Catholic priest David Rapson.
While the money will help him deal with his ailing health, Ben Monagle says nothing can compensate for the harm caused by Rapson, which triggered decades of drug abuse, mental health problems, criminal offending and estrangement from his four children.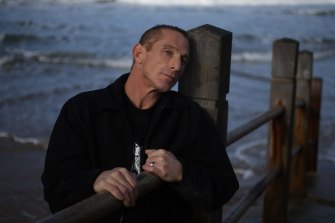 Ben Monagle, who was raped as a teenager at a Catholic boarding college.Credit:Angela Wylie
"I guess it's closure in a sense and I have to shut the door as best I can. But the money won't really help with all the crap I've been through and the stuff I've put others through," Mr Monagle said.
Mr Monagle's lawyer, Viv Waller, said he would receive $1,012,435, which would be managed by the courts to help fund stable accommodation and medical treatment.
"The settlement is the largest recorded award for psychiatric injury in Victoria," Dr Waller said.
Mr Monagle, 48, still seethes at the legal tactics used by the Catholic Church to avoid responsibility for the abuse he suffered.
He began at Rupertswood as a year 10 boarder in 1990. Unbeknown to him and his devoutly Catholic parents, boys had been ruthlessly abused by a group of priests and brothers at the school since 1960.
Rapson was found guilty of raping Mr Monagle on four occasions, usually after plying him with alcohol and cigarettes.
Rapson was jailed in 2015 and Mr Monagle had been pursuing a financial settlement through the courts until May 12 this year, when the church settled. The case had been due to go to trial on May 18.
"I have a written apology from Greg Chambers [rector of the Salesians of Don Bosco] and Rapson was sent to jail years ago, and they only settled a few days before trial," Mr Monagle said. "Why's it up to me to fight for this?"
David Rapson leaving the Melbourne Magistrates Court in 2012.Credit:Justin McManus
Dr Waller said the Salesians had admitted they had received reports of improper conduct by Rapson towards students in 1987 and 1989, including complaints of sexual abuse.
They also conceded they had failed to remove Rapson, who became vice-principal of the college, from direct contact with students despite the warnings.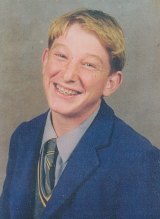 Mr Monagle at age 16.
"The failure of the Salesians to remove Rapson once they knew he was a sexual predator was catastrophic for children and one of the most flagrant disregards for child safety I've seen in more than 25 years of legal practice," Dr Waller said.
The settlement also requires that the Salesians cover Mr Monagle's legal costs.
Dr Waller said the abuse of Mr Monagle as a vulnerable 16-year-old student had ruined his life and devastated his parents. She predicted that the size of the award would lead to other survivors receiving bigger payouts.
"Previous court awards for general damages for mental harm have been in the $300,000 to 400,000 range. Hopefully, this paves the way for a significant increase in awards of general damages in sexual abuse claims in Victoria."
Mr Monagle described Rapson's assault in a statement to police.
"He pushed me over his desk. He then tied my hands up using a robe cord with tassels on the end. It was what the priests would tie around their waists. He tied my hands in front of me as I was lying on his desk. I was crying at the time. He told me to shut up," Mr Monagle said.
David Rapson became vice-principal of Rupertswood.
The sadistic rape "seemed to last for an hour" and at one point Rapson twisted the boy's testicles.
"I was screaming out in pain. That just seemed to make him go harder. I was in such agony and crying out. He then put a hanky in my mouth. All I could think about was Mum and Dad and how I wanted to go home."
A month after the attack, Mr Monagle required corrective surgery to his testicles that left him with 15 stitches and eight staples.
He left the Catholic college after year 10. Within months, he dropped out of a wool-classing course at Essendon TAFE. He fled the state in 1991 without any explanation to his family.
By the time Mr Monagle turned 17, he had been involved in a string of armed robberies in NSW and Queensland and tried methamphetamine for the first time. The past 30 years have been a blur of drug abuse and crime.
In 2015, Rapson was sentenced to 12 years' jail after being found guilty of five charges of rape and six counts of indecent assault, related to attacks on six students at two schools, including Rupertswood.
County Court Judge James Parrish described the former priest as a "ruthless sexual predator" and said his offending displayed unrelenting "cruelty and violence bordering on being sadistic".
Mr Monagle attended court when Rapson was sentenced and yelled "hope you die in jail, you dog," as his attacker was led away.
After being diagnosed with emphysema this year and still battling methamphetamine addiction, Mr Monagle has been advised to move to a warmer climate.
"I'll probably have to move north. I'd like to buy 20 or 30 acres with a house and just be away from everything and everyone," he said.
If you or anyone you know needs support, you can contact the National Sexual Assault, Domestic and Family Violence Counselling Service on 1800RESPECT (1800 737 732) or Lifeline 131 114.
Most Viewed in National
From our partners
Source: Read Full Article