America's top COVID adviser says Australia cannot rely on vaccines and border controls to protect its population, warning no country is safe while the virus is allowed to spread beyond its borders.
Dr Anthony Fauci issued the sobering reality check during the University of NSW's inaugural David Cooper Lecture this week as the US administered a record 4.6 million vaccines in a single day and Australia's vaccination rollout continues to stumble.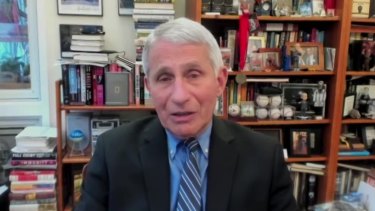 Dr Anthony Fauci, director of the US National Institute of Allergy and Infectious Diseases.Credit:UNSW
There would be no freedom from the virus for Australia or any country that had successfully suppressed it within its own communities until the overwhelming majority of the world's population was vaccinated against COVID-19 and its spread was controlled globally, US President Joe Biden's chief medical adviser said via video conference from his home office.
"As long as there's the dynamic of virus replication somewhere, there will always be the threat of the emergence of variants which could then come back," said the long-time director of the National Institute of Allergy and Infectious Diseases at the US National Institute of Health.
"Even though most of the rest of the world is vaccinated, it can threaten the [countries] that [have] felt that they've controlled the virus, when they're still quite vulnerable.
"If you want to maintain control you want to have control throughout the entire world."
Dr Fauci's comments follow a refusal by Australian Health Minister Greg Hunt to guarantee Australia's borders will be open even if the entire country has been vaccinated against COVID-19.
The public health adviser to every US president since Ronald Reagan praised Australia's response to the pandemic as among the best in the world thanks largely to a national cohesion that was in stark contrast to the splintered and politicised US attempts to control and eliminate the virus spread.
"You had the capability and uniformity of your citizens that, when you shut down, you really shut down very effectively," Dr Fauci said.
His perception of a unified Australia might ring false to anyone keeping track of the repeated unilateral state and territory border closures, and the finger-pointing by federal and state leaders over vaccine rollout disruptions.
But when the Commonwealth's public health experts have issued advice, states and territories have followed it. Any deviations by the states have been to enact tougher restrictions than those recommended by the Australian Health Protection Principal Committee (AHPPC), such as border and school closures, and mandatory face masks in response to outbreaks.
On Tuesday, Prime Minister Scott Morrison announced national cabinet – a stalwart forum for state, territory and Commonwealth political leaders and their public health advisers since the early days of the pandemic – would again meet twice weekly from Monday.
Conversely, the independence afforded the US state leaders led to states ignoring expert advice on face masks, restricted movement and even initial refusals to accept vaccine deliveries.
"We still have situations where governors in their independence are essentially defying some of the recommendations and the guidelines of public health," Dr Fauci said.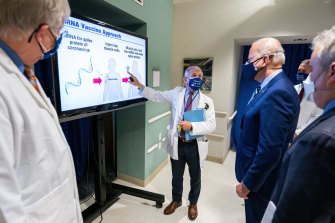 Dr Anthony Fauci briefs President Joe Biden, who told him, "We're going to let science rule" in fighting COVID.Credit:Alamy
He said this lack of unity meant the US had fared worse than essentially any other country.
The US had reported more than 31.3 million COVID-19 cases and 562,941 deaths by Tuesday local time.
"It is unfortunate we are living right now in our country in a time of profound divisiveness," Dr Fauci said.
He said vaccine hesitancy in the US had nothing to do with justified scepticism but political ideology.
"It really is a complication of an anti-science atmosphere that has evolved, again, with a certain type of political persuasion … that scientists don't know what they're talking about, a lot of this is fake news, a lot of it doesn't really exist," he said. "I mean to say things like that, when you have a terrible pandemic looking you straight in the eye in some respects, is almost inexplicable but unfortunately is happening."
Yet the US vaccine rollout has been a monumental success. While Australia has scrapped its vaccine targets and administered just 1.3 million doses, in the US more than 192 million people have received at least one dose of a COVID-19 vaccine – roughly one-third of the US population – and 75.3 million people are fully vaccinated.
Asked what advice the US had for Australia's vaccine rollout, Dr Fauci said Mr Biden had made COVID vaccination his "very, very top priority".
"He made equity a very important part of this. What he's done, for example, is open up community vaccine centres, get vaccines to the pharmacies, develop mobile units to go out to people in poorly accessible areas and got vaccinators – people who would be administering the vaccines – he got as many out in the field as he possibly could. Those are retired physicians, military personnel, nurses, medical students, as many people as you possibly can to get out there and administer it."
The US vaccination program is effectively racing against the spread of the UK variant, which is fast becoming the most dominant variant in North America.
Get our Coronavirus Update newsletter
Stay across the news you need to know related to the pandemic. Sent Monday and Thursday. Sign up here.
Most Viewed in National
From our partners
Source: Read Full Article