Can Twitter Blue Become a New Revenue Stream for Digital Publishers?
Malcolm X circa 1962; (inset) producers Phil Bertelsen and Rachel Dretzin in 2019 (Photo by Richard Saunders/Hulton Archive/Getty Images; Rachel Luna/Getty Images)
'Who Killed Malcolm X' Filmmakers on Exoneration of 2 Wrongly Convicted Men: Clues 'Have Been Out There for Decades'
"Suddenly, 'Who killed Malcolm X' turned into: 'Who didn't?'" says director/producer Phil Bertelsen
Producers of the Netflix documentary series "Who Killed Malcolm X" were hot on the trail of the influential Black leader's most likely murderer, William Bradley —a member of a Newark mosque who once served time in prison on charges that included threatening to kill three people — when Bradley died in 2018.
However, questions raised during the production of the series, which premiered in 2020, helped to relaunch the investigation into Malcolm X's killing, which in turn led to Thursday's exoneration of two of the men found guilty of the 1965 assassination, each of whom spent more than 20 years in prison.
Continue reading
Join WrapPRO for Exclusive Content,
Full Video Access, Premium Events, and More!
"Suddenly, 'Who killed Malcolm X' turned into: 'Who didn't?' series director and producer Phil Bertelsen told TheWrap in response to the exoneration. "Our energies went toward, you know, looking more completely at what the documents showed."
On Thursday, Manhattan District Attorney Cy Vance Jr., along with the Shanies Law Office and the Innocence Project, moved to vacate the trial convictions and dismiss the indictment of Muhammad A. Aziz and Khalil Islam for the murder of Malcolm X at the Audubon Ballroom in New York City.
Vance offered a public apology in court to Aziz, 83, who was released from prison in 1985, and Islam, who was released in 1987 and died in 2009 at age 74, as well as their families. "I apologize for what were serious, unacceptable violations of the law and the public trust," Vance said. "I apologize on behalf of our nation's law enforcement for this decades-long injustice, which has eroded public faith in institutions that are designed to guarantee the equal protection of the law."
This is not the first time a TV series has served to change the course of a legal case, including most recently the murder conviction of Robert Durst in Los Angeles after HBO's 2015 series"The Jinx," in which he uttered the apparent confession: "I killed them all, of course," as well as re-examination of the murder case against Adnan Syed in the "Serial" podcast.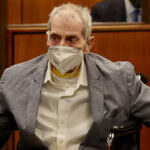 In an interview with TheWrap shortly after Thursday's announcement, Bertelsen and co-director and executive producer Rachel Dretzin said continuing to pursue documentary research after Bradley's death caused them to U-turn in a different direction. The clues that would lead to the exoneration of these men have been out there for decades," Dretzin said.
Bertelsen and Dretzin said that Vance was prompted to re-open the investigation by the documentary."(The man) at the crime scene was described by witnesses and it just didn't match up with the men who had been convicted," Bertelsen said. "And so that was the evidence we shared more fully than I think we would have, had it not been for the fact that Julian Bradley died on us."
Added Bertelsen, "And it was at that point, we said: 'You know what, there's this thing called the Conviction Integrity Unit at the Manhattan DA office. Let's file a letter of petition to have them re-investigate this crime. And sure enough, they did."
The filmmakers are quick to note they were not the only ones who helped to relaunch the investigation, also citing the Innocence Project and other entities dedicated to uncovering the truth.
Bertelsen and Dretzin said they strongly believe the convictions of two innocent men resulted from a deliberate coverup.
"I think there was a willful negligence on the part of law enforcement to not prosecute this case fairly or accurately," Bertelsen said. "And I think, as the affidavit points out, the joint motion that was filed today, it was the combination of new witnesses who provided an alibi for Mr. Aziz in particular.And this exclusion of exculpatory evidence that would have led to the acquittal of these men had it been presented and not essentially hidden from the prosecution and never entered into evidence. There were FBI informants who were in the room and instructed not to talk to the NYPD."
"Call it what you will, but at the end of the day, it was obstruction of justice," Bertelsen said.
The producers say that even after the re-investigation, all evidence continues to point to Bradley — who later became known as Al-Mustafa Shabazz — as the man who fired the shot that killed Malcolm X. They also say they are going to continue their research. Does that mean more episodes of "Who Killed Malcolm X?"
"Nothing official," Dretzin said. "At this point, we are continuing to follow the story and we haven't officially made any decisions or announcement (about) what we're going to do with it. We just know the story is not complete. We're going to follow it through to the end."
You are reading a WrapPRO exclusive article that has been made available (for free) today. If you would like to have access to all of our member-only stories and virtual events, please CLICK HERE to receive 7 free days of WrapPRO –> The Essential Source for Entertainment Insiders.