Stassi Schroeder from Vanderpump Rules may have cried a sea of tears for Jax Taylor toward the beginning of the series. Taylor and Schroeder began the series as a couple, but the relationship quickly crumbled.
But now she's happy the relationship didn't work out, saying "Thank God Jax was such a d**k to me." Schroeder is now engaged to Beau Clark. She kissed quite a few toads on her road to Clark, including Patrick Meagher, who marveled at Lisa Vanderpump's backside in front of the restaurant maven.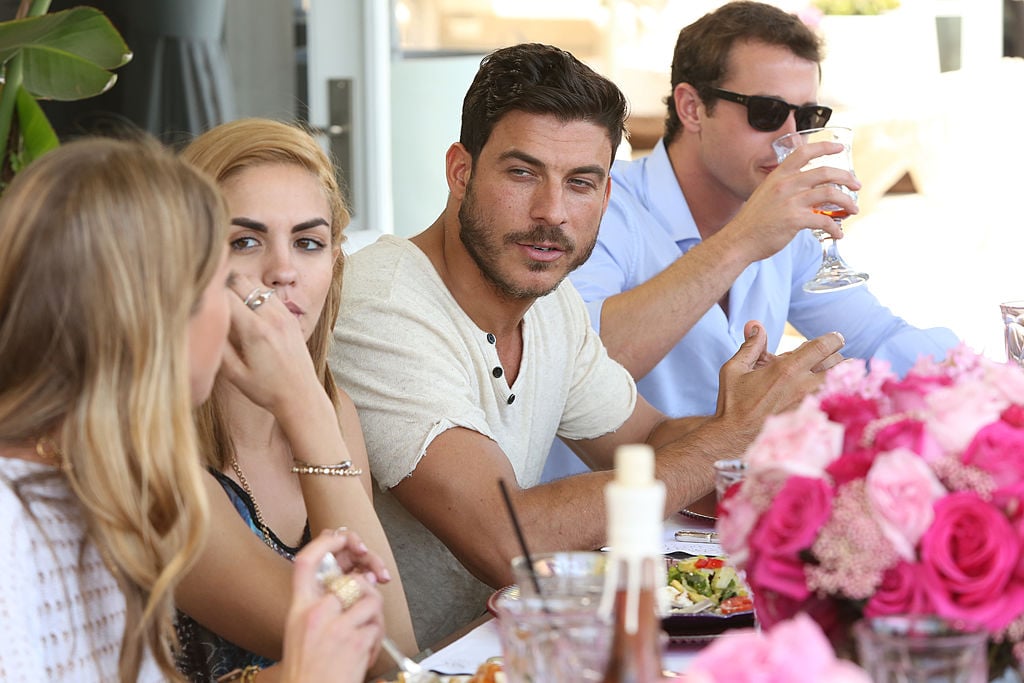 Shortly after Schroeder and Meagher parted ways, she started dating Clark and it was a magical match. Not only did Schroeder find love, but she also found friendship with Taylor and his wife Brittany Cartwright. Clark too is friends with Taylor and the couple discussed how life would have been significantly different for Schroeder if she had tried to go the distance with Taylor.
Is being friends with Taylor weird for Clark?
A Vanderpump Rules After Show producer asked Clark if it is strange being friends with his fiancee's ex-boyfriend. And how did he feel about attending Taylor's wedding? "I tweeted last Valentine's Day, I was like, 'I just wanna say thanks to Stassi's ex-boyfriends for f**king up and being you," Clark says as Schroeder sits by and laughs.
"Because if you guys weren't you, then this wouldn't happen," he exclaims. "Or something along those lines. But it can also go back to me also being a bad boyfriend to my girlfriends or just life."
A producer reminds Schroeder about telling Clark she was glad that Taylor was an a**hole to her. "I don't even remember that," Schroeder says. "But that sounds like something that we've said. Thank God that Jax was such a d**k to me. For real."
Schroeder says she owes her relationship (partly) to Taylor
She continues by saying she was young enough to maybe "go through the motions" if Taylor hadn't have been such an "a**hole." She adds, "And can you imagine Jax and I together? What the f**k would we talk about? What would we talk about? So really, we owe our relationship partly to Jax."
Clark says, "Thank you, buddy." They both look at the camera saying "thank you" to Taylor.
Meanwhile, Taylor sits with Vanderpump who asks him if he ever wanted to marry Schroeder. "Ah … no," he insists. "I think things worked out exactly how they were supposed to. And I'm so glad. She's one of my best friends now. I never thought in a million years we'd get back to where we are today." Vanderpump reminds Taylor he still loves Schroeder very much.
"I love her as a person, of course, Taylor says. Adding, "I would do anything for her. And we've had these chats like I can't believe we've come this far, but you're one of my best friends again. It's just amazing that we've all come full circle considering all the hurt was 90% of that I did." Vanderpump corrects him, "Actually, 99," she says.
Vanderpump Rules airs on Tuesday at 9/8c on Bravo.
Source: Read Full Article