Kody Brown of TLC's Sister Wives and his first wife, Meri Brown, have struggled in their relationship for years. A 2015 catfishing scandal, as well as a legal divorce so Kody could marry his fourth wife, Robyn Brown, and adopt her three children from a previous marriage, exacerbated the polygamist couple's existing problems.
Now, Kody and Meri have claimed on the show that they no longer have a romantic relationship. They've hinted that they don't even spend the night together or spend much time with each other, despite having been married for 30 years as of Apr. 2020.
But a recent incident inMeri's online LuLaRoe sales group during one of her live marketing events hasconfused some fans about her relationship with Kody. Kody barged into the roomand demanded that Meri sign a stack of unknown documents.
Fans took to Reddit to speculate about the Browns' relationship status, with some wondering whether Sister Wives viewers have been deceived when it comes to the real behind-the-scenes drama.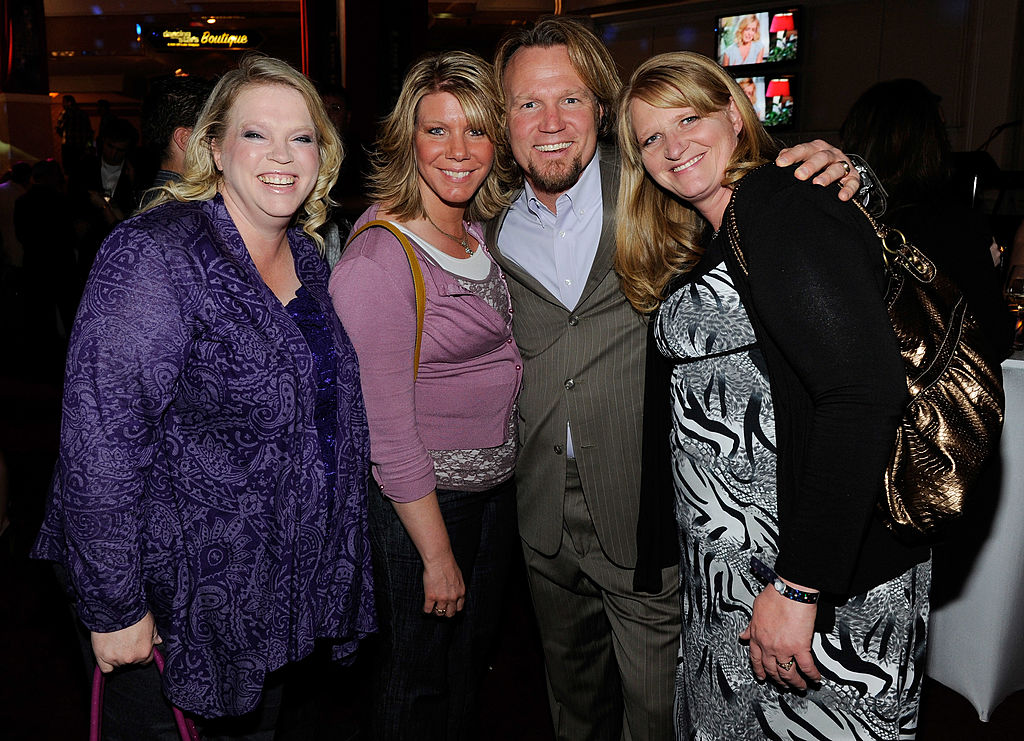 Meri's husband recently interrupted her live LuLaRoe sale event to ask for her signature on a few documents
Kody's first wife is a dedicated salesperson with the multi-level marketing company, LuLaRoe. On her LuLaRoe Facebook group, which boasts almost 100,000 members, Meri regularly hosts live sales events for the company's clothing. She's been even more active with the company in quarantine.
The Sister Wives star recently hosted an online LuLaRoesale on Facebook—but her husband had other ideas. According to YouTuber Katie Joy of Without aCrystal Ball, Kody barged into the room to interrupt the event Meri washosting.
Appearing stressed, the dad of 18 asked his wife to sign astack of documents. "Right now?" she asked. Kody replied that he needed hersignature immediately so he could go take care of the matter before officesclosed. The Sister Wives patriarch mentioned a "title," but didn'tspecify exactly what the documents were.
Katie Joy noted that, while Meri didn't seem alarmed by the intrusion, she also said she wasn't sure what exactly she was signing. She even joked that she could be signing "anything," but she'd already signed divorce papers, so that wasn't the likeliest possibility.
The estranged couple chatted about stress, sleep, and CBD
As Meri signed the papers and made photocopies, Kody and hisfirst wife also chatted about his well-being during quarantine.
Meri asked her husband if he was feeling well, saying he appeared exhausted. The Sister Wives star admitted he hadn't been sleeping well and alluded to stress in his life. Kody added that he'd tried meditation, but so far, nothing had worked to calm him down.
Although he didn't elaborate on the cause of his anxiety, fans speculated that he was referring to the stress of the pandemic or to the family's recent stress around moving to Flagstaff, finding homes for all four Brown wives, and finances.
The Sister Wives couple also discussed the possibility of taking CBD for stress. Meri said her daughter, Mariah Brown, and Mariah's fiancée, Audrey Kriss, had recommended it to her.
Kody seemed open to the idea, calling it an "herbal supplement." Some fans were surprised by the idea, given the Browns' religious views on mind-altering substances, but CBD doesn't produce a "high"—so it wouldn't likely go against their fundamentalist Mormon beliefs.
Kody quickly apologized for interrupting Meri's livestream before he hastily left.
Fans on Reddit speculated about the polygamist pair's strange interaction
Sister Wives fans took to Reddit to chat about Kody's interruption of Meri's sale.
Some viewers thought the CBD comments seemed too pointed tobe real. A few of them even suggested that Meri, Kody, or one of the other Brownsmight be looking to sell CBD-infused products in the future.
"I hate that I'm so cynical that my firstthought is that this was staged," one Redditor wrote. Another agreed, musing: "Iagree 100% that this was staged. Guarantee one of them will be shilling someanti-stress crap with CBD any minute now."
Several Reddit users concurred, arguing thatthe Brown family might have staged the interaction as some sort of "commercial"for CBD products. "I feel like this was a pitch for their next MLM," one SisterWives fan declared. "Stay tuned for their CBD launch announcement hon."
Others thought that Meri and Kody'sinteraction was far too comfortable and friendly for a couple that was soallegedly at odds with one another. Some fans thought the couple seemedeasy-going and caring with one another, in stark contrast to their aloofbehavior on Sister Wives. A few took this as proof that the drama on theshow is faked or exaggerated for ratings.
"It was all lighthearted and refreshing tosee them interact so nicely with each other," one Reddit user wrote of the conversationbetween Kody and Meri. "That made me question the show because it was such acontrast."
Another Redditor agreed that Meri'srelationship with Kody seemed completely different than on the show in her FacebookLive. "They fake a lot of the drama for the show," the commenter argued. "Ifthey were smart, they'd have [gotten] Meri onto Catfish. LOL."
Source: Read Full Article