Even if you're not a "Jeopardy!" fan, chances are you still recognize resident genius, James Holzhauer. With his speedy reflexes and vast intellect, Holzhauer took the popular game show by storm with his 32-game winning streak. Joining the ranks of Ken Jennings and Brad Rutter, Holzhauer's historic performance on the show put him in contention for highest earners in the show's 57-year history. On top of that, Holzhauer also broke many single-game earnings records — so much so that he was even dubbed "Jeopardy James" (via ESPN).
Prior to appearing on "Jeopardy!" Holzhauer made a successful career off of sports gambling. Moreover, the trivia phenom spent his entire life inadvertently preparing for a moment as big as his "Jeopardy!" run, beginning with his excellent math marks in school. Per The New York Times, at the age of four, Holzhauer's "teacher was astounded by his arithmetic abilities and developed advanced classwork just for him." Furthermore, "At [seven], he was moved up to a fifth-grade math class, and at his mother's urging he skipped second grade altogether."
On top of his math skills, he would "memorize obscure baseball statistics and everything there was to know about professional wrestling," skip school to play online poker, and watch "Jeopardy!" with his grandmother. As a result, the player's lifelong skills turned him into a television sensation and earned him a jaw-dropping amount of money in the process. So exactly how much money did James Holzhauer earn on "Jeopardy!?" Read on to find out!
James Holzhauer's earnings were in the millions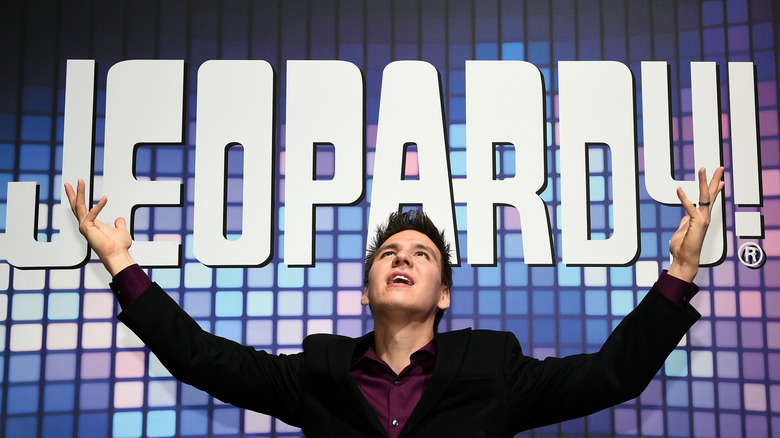 With a jaw-dropping 32-game 2019 winning streak, James Holzhauer accrued a massive amount of money — set to the tune of $2,464,216 (per USA Today)! Speaking to The New York Times, Holzhauer said, "Nobody likes to lose … But I'm very proud of how I did, and I really exceeded my own expectations for the show." He added that he doesn't "feel bad about it."
Upon finally being unseated in game 33 by Chicago librarian Emma Boettcher, Holzhauer noted in a statement provided by Sony Pictures Television that she was "an extremely tough challenger" and that he was "proud that it took a top-level player at her absolute best to eliminate me."
Holzhauer also set a number of records during his time on the show, with USA Today noting that he "holds the top 15 daily money totals, including the one-day record of $131,127 set April 17." On top of his historic day-to-day performance, Holzhauer also won the Tournament of Champions in November 2019, earning $250,000 (via Biography), and an additional $250,000 as a runner-up in the Greatest of All-Time tournament (via USA Today) — for a total of $2,964,216 in earnings. With a massive amount of earnings in the bank, where does James Holzhauer stand amongst the top earners in "Jeopardy!" history? Scroll down to see.
James Holzhauer currently ranks No. 3 in top earners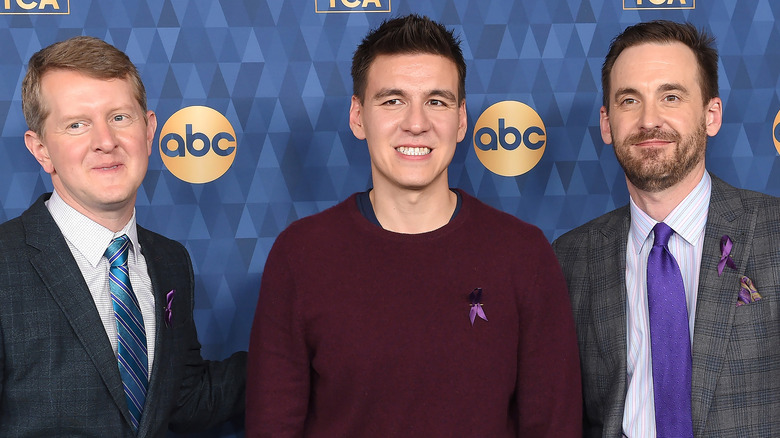 Although James Holzhauer had a legendary run on "Jeopardy!" and set a number of single-game records, the fierce competitor has yet to etch his name atop the game show's rankings. In light of such, Holzhauer faced stiff competition from "Jeopardy!" veterans Ken Jennings and Brad Rutter — both of whom have set their own respective records during their time on the show.
According to the official "Jeopardy!" website, Rutter holds the highest all-time earnings of $4,938,436 while Jennings boasts an impressive $4,370,700. Holzhauer, however, lags behind with an overall earning of $2,964,216. The star player was also close to eclipsing Jennings' non-tournament earnings, falling short of just $56,484 behind his foe. In a statement released by Sony Pictures Television (per USA Today), Holzhauer revealed that he "never really believed I could win 75 shows, but I definitely thought I had a great shot at Ken's cash winnings record."
The trio of Rutter, Jennings, and Holzhauer eventually squared off against one another in January 2020 as a part of the "Jeopardy! The Greatest of All-Time" tournament. During the weeklong special, the trio competed in four games that saw Jennings emerge victorious with three wins, while Holzhauer won one game and Rutter zero. All that said, there are entire YouTube explainers solely focused on Holzhauer's buzzer-ready gameplay and he definitely changed "Jeopardy!" — and his bank account — forever.
Source: Read Full Article