Bachelor in Paradise may not be back in 2020, but fans are still very much interested in Dean Unglert and Caelynn Miller-Keyes. The two met on the beaches of Mexico last season, and they clicked immediately despite their differences. While Unglert left the show after realizing their relationship was unlikely to work in the real world, he came back and won Miller-Keyes' heart. Together, they left the show and embarked on a real-world romance.
Now, Miller-Keyes and Unglert have traveled the world together, and they seem to be going strong. But Unglert spoke on his podcast about his past relationships — and he noted his girlfriends have always tried to change him. Here's what he said.
Dean Unglert has had a number of public relationships in the past
RELATED: 'BIP': Kristina Schulman Just Told an Instagram Follower Her Relationship With Dean Unglert Was Bad Timing
Unglert got his start on Rachel Lindsay's season of The Bachelorette, and he became a fan favorite. While Lindsay was significantly older than Unglert, he proved to be quite mature for his age. And his time on the show ultimately led him to try and find love on Bachelor in Paradise, which is where he first met Kristina Schulman.
Schulman and Unglert hit it off early in Paradise — but another woman caught Unglert's eye. He also got involved with Danielle Lombard, which threatened his relationship with Schulman. Ultimately, Schulman decided to leave Paradise after Unglert failed to choose her over Lombard, but the two continued their relationship after the show. Since then, Unglert even mentioned he thought Schulman was "the one."
I liked Kristina a lot, it's just we were so incompatible … in every aspect of who we are as individuals," Unglert said on the Bachelor Happy Hour podcast. "I was genuinely in love with her, it just is one of those things that didn't work out." 
He's getting more serious about Caelynn Miller-Keyes than with other girlfriends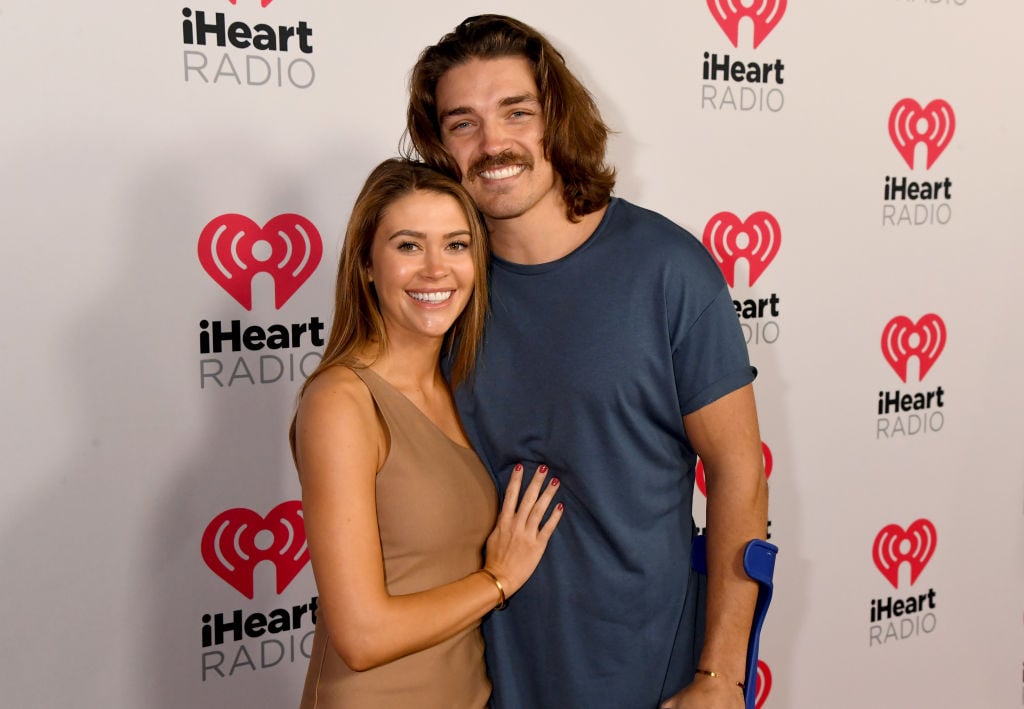 Unglert and Schulman couldn't make their relationship work — but he and Miller-Keyes are still together. And Unglert has even said this is one of the longest relationships he's ever had. There's plenty of talk about their future together, too. And he mentioned on his podcast, Help! I Suck at Dating …, that he's more serious about Miller-Keyes than he has been with past relationships.
"I feel like in all my other relationships before, I would hide certain aspects of myself because I didn't really exactly who or what I was. I still obviously don't. But I'm getting more and more comfortable with who I am, so that allows me to be more confident and transparent, I guess," Unglert said.
He then added that this awareness has led him to have "a deeper connection with a significant other in Caelynn, in this case, because it's just like, we are who we are. We're not gonna tell each other to do things that aren't who you are. And so it's like, you're kind of getting closer and closer with this person."
Unglert said all of his girlfriends have tried to change him
Unglert seems happier than ever in his current relationship, but he did remark on his past and how exes have tried to change him.
"I've had exes … reach out to me on multiple occasions and they said, 'I always thought I was gonna be the one to change you,' or something like that," Unglert noted on his podcast. "They do see it as a challenge, and I think that they just want the gratification of being the one that does ultimately change that person for the better."
As for what men want, it seems Unglert and the rest of the folks on his podcast agree that men want women to stay as they were the day they first met.
"There is some truth to that — the guy does want the woman to stay the same," Unglert added.
Maybe Miller-Keyes wants Unglert to adjust somewhat, but it looks like they're still committed to learning and growing together. We hope their relationship can continue down this path!
Check out Showbiz Cheat Sheet on Facebook!
Source: Read Full Article