While most people know Iggy Azalea by her stage moniker, the rap star's government name is in fact Amethyst Amelia Kelly. According to Biography, the "Mo Bounce" hitmaker was born in Sydney, Australia, on June 7, 1990, but grew up in the New South Wales town of Mullumbimby. Her father, Brendan, was an artist and children's book author while her mother, Tanya, was a cleaner. After a road trip to the United States with her grandparents in 2001, Azalea was given a taste of life outside of her home country. After visiting Los Angeles and Las Vegas, the then 11-year-old would soon start to develop a passion for hip-hop and rap music. 
In a 2011 interview with Global Grind, Azalea (pictured above 21-years-old) explained she started rapping at the age of 14. "I heard "Baby Don't Cry," I'll never forget. I was at my next door neighbor's house, who was this group of boys and they were older than me," she said, adding, "You know there's always that one cool kid who knows all the good music sh**? They were my next door neighbors and I went over one day and they had this eclectic mix of music. I was like, 'WOAH.' I was sickly obsessed. I had every picture of Tupac ever printed on my wall."
At age 16, she told her parents she was going on a vacation to Miami, Florida. However, she never came back and chased her dreams of being a chart-topping rapper, per Vanity Fair.
One half of Iggy Azalea's stage name was inspired by her dead dog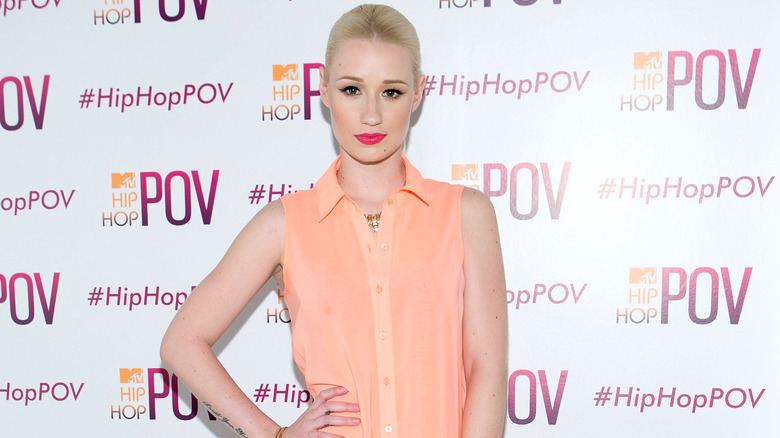 Even though Amethyst Amelia Kelly is a name that stands out, Iggy Azalea still opted for a stage name. During a 2011 interview with Global Grind, the "Black Widow" hitmaker explained how she chose Iggy.
"It was my dog's name growing up. That's weird, right? My dead dog. He was the coolest. He was half pit and half Australian cattle dog. My dad got him when I was a baby. I had him my whole life growing up and he was this crazy dog," she explained. "We had to get him put down when I was 18 because his legs stopped working, but this motherf***er would not let go. He was the coolest."
According to the New York Daily News, Azalea (pictured above 22-years-old) had plans of only going by Iggy. However, her grandfather influenced her to have a last name. She went with Azalea because it was the name of the street her mom and family lived on. "It sounds very feminine and I thought it would balance out Iggy being so masculine," she told Vevo in 2014.
Iggy Azalea's music quickly took off with 'Fancy'
In 2011, Iggy Azalea debuted on the music scene with her mixtape, "Ignorant Art," and would continue to drop more projects — "TrapGold" and "Glory" — to build up her fanbase, per Album of the Year.
Once Azalea (pictured above 24-years-old) started to achieve commercial success, she quickly became a household name in various continents. Her debut LP, "The New Classic," released in 2014, peaked at No. 2 in her home country, Australia, No. 3 on the U.S. Billboard 200, and No. 5 in the U.K. Azalea's dreams of being a rap star had become a reality and she took full advantage of the situation, collaborating with some of the hottest names at the time.
In February of 2014, the Australian-born talent released her biggest hit to date with British singer Charli XCX, "Fancy." Not only did the song take both artist's careers to new heights, but it also helped Azalea break records. "Fancy" became the rapper's first No. 1 hit on the U.S. Hot 100 and stayed there for seven consecutive weeks. While the track was enjoying huge success, her collab with Ariana Grande, "Problem," was also making waves on the same chart. According to Billboard, Azalea became the first female rapper to have two songs concurrently in the top five of the Hot 100 chart. In 2017, Billboard named "Fancy" the biggest female rapper hit in history.
Iggy Azalea was happy she didn't win at the 2015 Grammys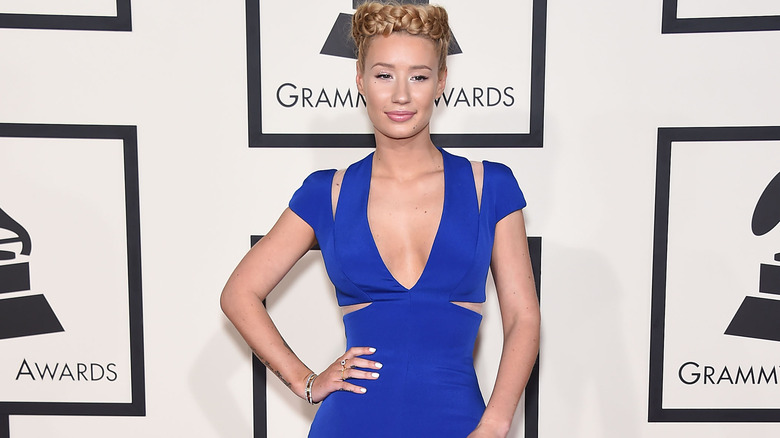 Being in the spotlight certainly has its downfalls. After Iggy Azalea rose to fame with her debut album, "The New Classic," the rapper found herself caught up in a few controversies. As reported by NME, Azalea's work and accent were accused of cultural appropriation.
In a 2016 interview with Elle Canada, she responded to some of the criticism. "Do you not like me because I rap with an American accent and I'm not American? Well, that's valid on some level because that's your opinion and I can't change that," Azalea said, adding, "But I'm not trying to sound black — I just grew up in a country where on TV and in music and film, everyone was American or any Australian person in them put on an American accent."
At the 2015 Grammy Awards, Azalea (pictured above 25-years-old) earned herself four nominations, one of which was for Best Rap Album. The rapper lost to Eminem and didn't win in any of the other categories. While most musicians would feel fairly bummed out about it, Azalea admitted she was quite pleased. "I did not want to win that award. My speech would have been like, 'F*** this. I don't want it, take it. Get it away from me,'" she told LA radio's Power 106 station about not taking home the Best Rap Album trophy (via NME). "People already hate me enough. I do not need to be hated any more."
Iggy Azalea surprised the world with news that she had become a mom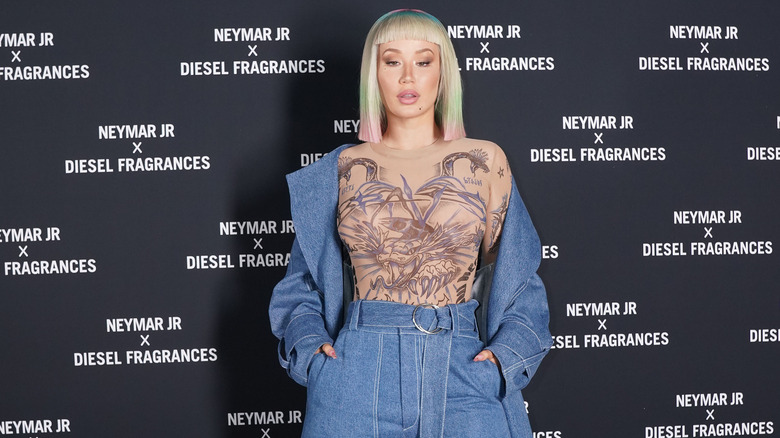 According to Billboard, Iggy Azalea first met rapper Playboi Carti in September 2018 while he was touring. The outlet reports the duo hit it off quickly and moved in together by the end of that same year.
Nearly two years later, Azalea shocked fans by announcing she had given birth to a son in June 2020. She had remained lowkey over the past number of months and kept her pregnancy a secret. "I have a son," she told fans at the time on her Instagram story. "I kept waiting for the right time to say something but it feels like the more time passes the more I realize I'm always going to feel anxious to share news that giant with the world." A month later, she revealed her child's name, Onyx. 
In October that same year, Azalea (pictured above 28-years-old) informed her followers that she and Carti were no longer together and stated that she will be raising their son on her own. However, just days later, Azalea clarified that Carti isn't completely absent from his son's life. Overall, Azalea's motherhood life remains fairly private. With that being said, she treated her fans to a number of adorable snapshots of her child on Christmas Day, per E! News.
Iggy Azalea's net worth proves she is still winning at life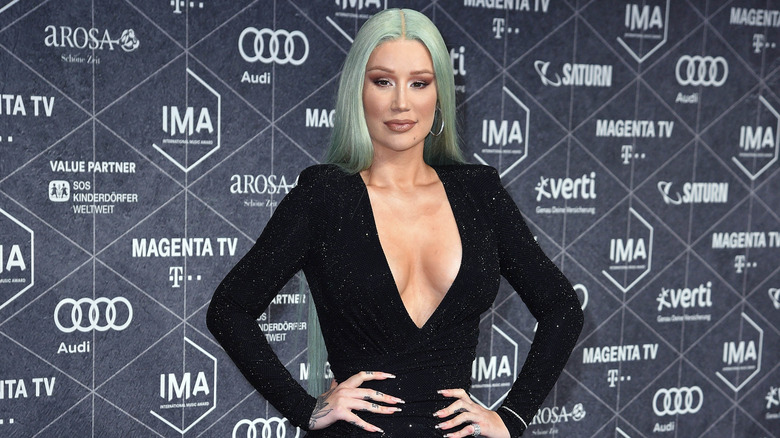 In July 2019, Iggy Azalea released her second studio album, "In My Defense," over five years after her debut. According to Billboard, the album didn't make much noise as her previous LP and peaked at No. 50 on the U.S. Billboard 200. With that being said, she still managed to bag herself some big features with Juicy J, Kash Doll, and Lil Yachty, per Genius.
Azalea (pictured above 29-years-old) has plans of releasing a third album, "End of an Era," which is scheduled to drop in 2021, per From The Stage. On Twitter, she explained the inspiration behind the title. "Turning 30 made me really think back on the last decade of my life & I just wanted to take all the s*** I've loved and make a time capsule of it," the "Work" hitmaker wrote. While fans for a new record, Azalea has been treating listeners to a number of fierce collabs. In August 2020, she teamed up with R&B singer Tinashe for "Dance Like Nobody's Watching," while releasing "Sip It" with fellow rapper Tyga in April 2021. 
While Azalea's presence on the charts isn't as strong as it used to be, there is no denying that she isn't one of rap's most successful acts in the past decade. As of 2021, she is worth an impressive $15 million, according to Celebrity Net Worth. Therefore, it's not like she has anything to worry about.
Source: Read Full Article