Key points
Loss-making sales have increased in Sydney as a share of all property sales, compared to last quarter.
Losses were skewed towards the apartment market.
Investors were more likely to lose money than owner-occupiers.
Property listings
More than one in 12 Sydney properties sold last quarter did so at a loss amid the deepening market downturn, and results for sellers in some hard-hit pockets were worse.
Sydney home sellers are increasingly having to accept prices below what they paid, CoreLogic's latest Pain & Gain Report shows, as 8.8 per cent of property sales traded for a nominal loss in the December quarter – the third-highest rate in a capital city after Darwin and Perth.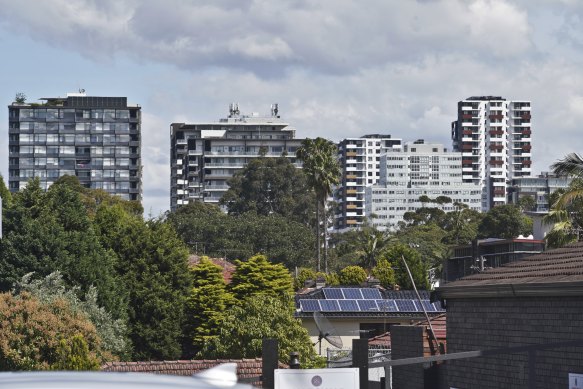 Some property owners in neighbourhoods with strong supply are selling at a loss.Credit:Ben Rushton
It is the highest proportion of loss-making sales since mid-2019, when 9.3 per cent of homes sold at a loss, and is up from 7.8 per cent the previous quarter. It is also double the decade average of 4.4 per cent.
CoreLogic head of research and report author Eliza Owen said losses were heavily skewed towards the apartment market, where 14.8 per cent of resales incurred a nominal loss compared to 2.1 per cent of houses.
"Sydney and Melbourne accounted for more than half of unit losses [nationwide]. There are particular pockets of risk and stagnant [price] growth that contribute to loss-making sales all the time, but in periods of a downturn those numbers become a bit extreme," Owen said.
Botany Bay and surrounding suburbs such as Mascot and Pagewood had the highest rate of loss-making sales at 26.7 per cent, followed by the Parramatta (23.5 per cent), Ryde (23.2 per cent) and Strathfield (22.2 per cent) regions.
Losses for investors, who were more likely to own apartments, were also more widespread. Nominal losses were recorded for 11.8 per cent of investor sales, compared to 5.5 per cent of owner-occupier sales.
"Areas associated with a lot of development … and a higher level of supply has reduced the incidence of profit making sales for investors," Owen said.
Owen said investors were also more exposed to rising mortgage rates, and could be more willing to sell for a loss than owner occupiers.
It follows a recent Productivity Commission report that said housing would be more affordable if more homes were built.
AMP Capital chief economist Dr Shane Oliver said more homes would sell for a loss amid a market downturn, but was surprised by the proportion of loss-making sales, given sharp price rises in recent years.
"To have sold at a loss you would think you would need to have bought near the peak, which is a quick turnaround [to be selling again]. It's almost indicative perhaps of some people suffering mortgage stress," he said.
Typically homeowners only sold at a loss if they needed to reduce their debt, or were looking to purchase elsewhere, Oliver said, but noted those looking to upsize rarely resold in a quick time frame, so were less likely to lose money.
He was not surprised by the higher proportion of loss-making unit sales in high-density markets such as Parramatta. A multi-year building boom had wrapped up just before the COVID-19 pandemic hit, and unit demand fell as migration came to a standstill and buyers sought out larger homes amid lockdowns.
"[The market] has turned around a lot since then … but [prices] were constrained by the supply surge going into the pandemic," he said.
Oliver expected there was more pain to come for Sydney sellers and is still forecasting a peak to trough decline of 15 to 20 per cent despite a small uptick in Sydney prices recently.
"I think it's a bit of a false dawn, a dead cat bounce. Some bargain hunters are taking advantage of lower prices, and listings are low [which is supporting the market] … but headwinds from higher interest rates are still to come, especially as more people roll off their fixed rates."
HSBC chief economist Paul Bloxham said homeowners should temper expectations as the market would continue to weaken until the full effect of the rate rises had flowed through.
Parramatta CBD.Credit:Ben Rushton
Bloxham said closed borders had affected housing prices too and investors were more exposed and tended to own more apartments.
Green shoots meant investors could soon return, Bloxham said, and could put a floor under property prices.
"The rental market is very tight, investors have been able to lift rents, and that would start to make investing more attractive," he said."That's one of the things we're looking for in looking for the [property price] floor in Sydney and Melbourne."
Sellers would still have to be realistic in the short term, however.
"We're not quite at a point where it's going to stabilise, but it's coming," Bloxham said. "I don't think we'll see a really strong rebound in house prices."
Most Viewed in Property
Source: Read Full Article