Save articles for later
Add articles to your saved list and come back to them any time.
To be invited onto Dancing with the Stars is both a recognition and a catalyst. Obviously, if you're one of the lucky celebrities to be asked to pair up with a professional dancer, you can be sure that you're a star – it says so right in the title. "You have reached the status of star, and therefore may enter into our spangly paradise," DWTS says – but then there is more. For by going on the show, you not only affirm your starhood, but elevate it into a higher realm. "Now you are here," DWTS continues, "we shall make you an even bigger star. Prepare for supernova."
In short, a spot on the show is exactly the kind of thing that is calculated to reinforce and inflate the ego, to convince a showbiz luminary that they truly have Made It.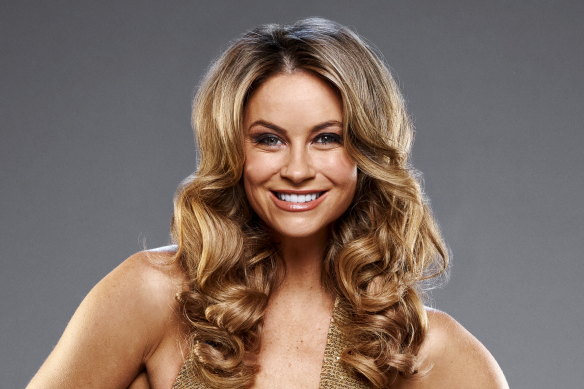 After a long career in musical theatre, Christie Whelan Browne is a contestant in the new season of Dancing with the Stars.Credit: Seven Network
With this in mind, it's a little bit of a surprise to discover just how, well, un-starlike is Christie Whelan Browne, who will be displaying her well-honed moves on this year's DWTS. The softly spoken triple threat seems almost embarrassed by being called a star.
"I said to my neighbour in Melbourne that we were moving to Sydney and she said what for. I said I was doing Dancing with the Stars and she said, what are you, the star? It made me laugh because, I'm sure there's lots of people who won't know who I am. I'm sure to some people I'm a star: definitely my mum and my dad."
Whatever her own self-perception, DWTS was an irresistible offer when it came – too good to refuse, despite the difficulties it posed. "I'd always dreamt of being on the show, and when the call came in it was probably not the perfect time. I had a two-year-old, I really needed a bit of a break from work – but you just can't say no. So I just jumped at the chance and thought, we'll work out the rest later."
Being a star isn't easy, at least when you're called upon to dance. The combination of DWTS's famously brutal training regime and the demands of everyday life took their toll. "It's been gruelling, to say the least," Whelan Browne reflects. "It's been hard: parenting, we moved interstate during the time, and dancing and injuries and illness." Those injuries ("a new one every week") included back, ankle and rib. By the end of her stint on the show, "my ribs were not in a good way".
It may have been here that Whelan Browne's long career in musical theatre – she has played Janet in Rocky Horror, Philia in A Funny Thing Happened on the Way to the Forum, and Liz Hurley in Shane Warne: The Musical, among many others – stood her in good stead. "When you go and see a musical, you're watching people who are giving so much joy on stage, and they're probably dealing with a whole host of injuries, and I was trained to smile through it and keep going."
Christie Whelan Browne performing on Dancing with the Stars.Credit: Seven Network
It could've been expected that with her experience Whelan Browne would walk into DWTS with a major edge over her competitors, bossing the contest with the muscle memory of 1000 numbers while the other stars helplessly flailed their amateurish limbs. As in seemingly all things, she is reluctant to talk her skills up, though. "I have never considered myself a dancer," she asserts. "Even though I have danced on stage and I've had to learn choreography, those are definite advantages. But not in a million years would I ever say that I am a dancer."
And of course, not all dances are created equal. "I've done, say, tap or jazz, but learning to cha-cha, that is a different skill entirely. At the beginning I thought this is impossible, I'm never going to be able to do this. It was new skills, a new way of moving my body, I've never done anything like it – the hips are going one way, the body's going another, it's a lot to take on."
Which rather neatly segues into an overview of Whelan Browne's entire career, for which "a lot to take on" would be an apt description. She's taken to theatre – musical and otherwise – film and television with aplomb, tackling dramas, soaps, sitcoms and sketch comedies.
Her habit of leaping with gusto into a range of different roles was not consciously planned. "It's not deliberate. I've had a lot of people in my life – directors or collaborators – who've offered me to do something I never thought possible. You know, an untrained actress to be offered to perform Shakespeare at the Melbourne Theatre Company: that's something that I never would have thought possible for me. But someone else thought it was. I've had the absolute privilege of other people seeing in me something I didn't see in myself. That has been a true gift for me because it's afforded me opportunities that were beyond my wildest dreams."
Surely, by now, she must have a little bit more faith in herself, though? Doesn't the belief of others start to seep through after a while? Whelan Browne, again, steadfastly refuses to pump up her own tyres any more than is strictly necessary. "I think I don't like letting people down," she flatters herself lightly. "I think it's less about believing in myself than wanting to rise to other people's expectations".
Rising to expectations is something Whelan Browne's been doing successfully for a couple of decades now, and despite the bruises and sprains, Dancing with the Stars is a fitting stage for her to show a whole new audience what she's got – whether she knows it or not. "It's been a very hard slog, I have to be honest. But a beautiful and very fulfilling experience in so many ways. I wouldn't change it."
Dancing with the Stars is on Seven and 7Plus from Sunday, June 18, at 7pm.
Find out the next TV, streaming series and movies to add to your must-sees. Get The Watchlist delivered every Thursday.
Most Viewed in Culture
From our partners
Source: Read Full Article