There is an age gap of more than half a century between Aurora Sapphire Matchett and Diana Ryall but they both want the same thing – respect.
So do Loren Davidson, 52, and Pooja Antil, 35. In fact, Professor Rae Cooper, who specialises in gender and work at Sydney University, says it is what nearly all women want.
"Respect is critical for women," Professor Cooper said. "You see echoes of lack of respect across every facet of women's lives – at work, within families and in public life."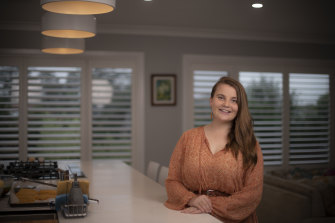 Aurora Sapphire Matchett, 17, is in year 12 and sits on the Young Women's Council of the YWCA.Credit:Wolter Peeters
Ms Matchett is still in high school, with a part-time job at a cinema near her home in Gymea in the Sutherland Shire. She sits on the Young Women's Council of feminist organisation YWCA.
At 17, Ms Matchett has already experienced sexual harassment from a boy her own age. Fortunately, her parents advocated for her and the organisation dealt with the problem swiftly and respectfully.
"Despite keeping quiet on it and feeling ashamed of it, in the end I was able to stand up for myself and seek the help to deal with it," Ms Matchett said.
Meanwhile, Diana Ryall, 73, who lives with her husband on the waterfront in Birchgrove, had most of her "wildly exciting" career before Ms Matchett was even born. She went to university when her elder son was a baby, started working full time when her younger son started school and over the next 20 years rose to become managing director of Apple Australia. She now owns a gender equality consultancy, advocates for gender equality and climate action and is ambassador for charities such as Dress for Success.
Ms Ryall remembers the days when men would network at the strip club and exclude women from lunch outings. When she became boss, she ordered the removal of girly pictures from the office and followed through a week later by walking through the cubicles and ripping them down.
Diana Ryall feels like she "had it all", combining a stellar career with a happy family.Credit:Louise Kennerley
Ms Antil, a research analyst who lives with her husband and 10-year-old daughter in Stanhope Gardens near Kellyville, said the impact of the #MeToo movement was huge. "I think we are on the verge of that change where the next time if a man is thinking of assaulting a woman, he will think twice because it's not going to be swept under the carpet," she said.
Ms Davidson from Castle Cove is married with four adult children and a stepdaughter. She worked part-time in administration while raising a family and now works as a caregiver with Home Instead to help older people stay at home.
She is pleased to see the change in attitudes to sexual harassment in workplaces but remains worried about sexual respect in broader society given the stubbornly high rates of sexual assault and domestic violence.
Loren Davidson is worried about the rate of sexual assault and domestic violence.Credit:Louise Kennerley
Equal pay
Fifty years after a court decision enshrined the principle of equal pay for equal work, the gender pay gap is still 14 per cent for full-time work.
Professor Cooper said female-dominated jobs were undervalued, while male-dominated jobs had a glass ceiling that prevented women reaching their potential. Many industries were putting all their effort into attracting women into the "pipeline" but failing to retain them.
Yet she said the debate about corporate careers and women on boards was not relevant for most working women – their biggest problem was not the glass ceiling, but the "sticky floor" where they are in precarious, low-paid jobs, lacking in prospects for progression.
Pooja Antil believes the hardest thing about being a woman in 2020 is achieving work/life balance.Credit:Steven Siewert
Ms Antil spent several years out of the workforce after having her baby and it took more than six months to find work in Australia after she emigrated from India with her family in 2015. As a result, she found the gender pay gap a "big concern".
"It should have been the other way around because women take career breaks, so we should be paid more than men [to compensate]," she said. "Women need to be extra-conscious of their financial independence."
Ms Davidson said the pay gap had narrowed in her lifetime but noted women in their 50s often found it hard to find a job.
Having it all
Ms Matchett is ambitious for her future. "I definitely want a career, I want to go on to university and gain a degree, I want to travel and I most definitely would love a family and I'd love lots of dogs as well," she said.
"I think most importantly for me would be establishing with my partner that … parenting needs to be equally shared between the two of us."
Ms Antil is in the thick of that juggle. She believes the hardest thing about being a woman in 2020 is achieving work/life balance. Her husband takes care of school drop-off and pick-up because his work is closer, while Ms Antil faces a commute to the CBD of one hour and 20 minutes each way. She has negotiated to work from home one day a week.
Ms Ryall said the secret of staying happily married for more than 50 years was mutual respect and teamwork.
Her husband moved from the corporate world to a more flexible job when their children were young. They had help from family and for a few years, the family employed a live-in housekeeper – something Ms Ryall says would be impossible for a young couple with equivalent jobs in 2020 because mortgages are now so high. She said childcare was too expensive for women on median incomes ($50,000 to $80,000), while in other advanced OECD countries it was free.
"I had a wildly exciting career and both of my boys have thrived and have moved into their own lives as responsible adults," Ms Ryall said. "I think I've had it all but ''having it all' changes with each stage of your life."
Source: Read Full Article