Kamilaroi artist Rhonda Sampson would like us to know a little bit more about Barangaroo, the Indigenous woman whose name is given to the six-hectare reserve in Sydney where the 20th WugulOra morning ceremony takes place on Thursday morning.
The ceremony, a sacred and reflective celebration of First Nations culture, has taken place on January 26, the same day the First Fleet sailed into Sydney Harbour in 1788, since 2003.
Just before a flame is lit on Me-Mel (Goat Island) and transported via the Tribal Warrior to Barangaroo to be used in the smoking ceremony, one of Sampson's artworks, Diyan Warrane, will be projected onto the Sydney Opera House.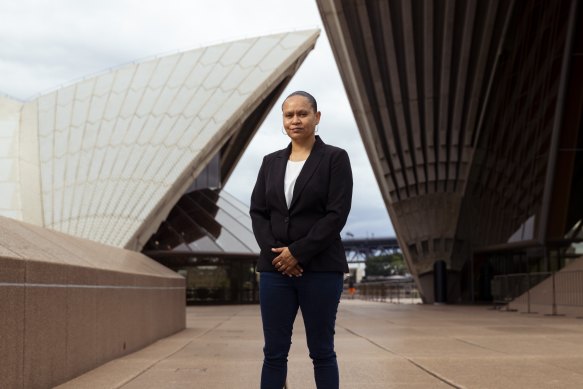 Proud Kamilaroi woman Rhonda Sampson's artwork will be projected on the Sydney Opera House.Credit:Dominic Lorrimer
It is a celebration of First Nations women around the waters of Sydney Harbour, specifically, four skilled fisherwomen who have made significant contributions to Indigenous history – Barangaroo, Patyegarang, Daringa and Boorong.
"The women pretty much ruled those waters fishing; they were the main providers for their clans," Sampson said.
"Today it's usually men associated with the fishing, but back then it was the women. So, I thought we would shine a spotlight on these women and their contributions to Sydney's story."
Sampson grew up in Campbelltown in Sydney's south-west. She said art had always been a part of her life, but it wasn't until recently that it evolved into her career.
"It's something that's natural to our people. We are natural artists, so I have been drawing since I was a young girl.
"It wasn't until about five years ago, that I got curious about graphic design, and I went to Campbelltown TAFE and did a certificate three just to dip my toes into the water.
"It sort of lit a flame within me, it switched something on that I now can't turn off, and it's grown into what it is. I started up a small business, just a solo artist, and the journey has been pretty amazing."
Diyan Warrane is a celebration of First Nations women from Sydney Harbour.
Sampson designed artwork for the Pemulwuy ferry in the 2022 Australia Day Ferrython. Now a year later, her work will shine in the Dawn Reflection, at the same time as the Aboriginal flag is raised atop the Sydney Harbour Bridge.
The artist, whose family originates from Coonabarabran in central-west NSW, sought out the Metropolitan Local Aboriginal Land Council for advice on what she should incorporate into her artwork.
"We sat there for two hours, and they gave me so much information. I walk through Sydney now very differently.
"I can see these women there, it changed something in me and how I look at the city now. I walk through Hyde Park for example, and those old trees would have seen everything: the women, the fishing, the gatherings – everything that I have spoken about in the artwork.
"It's not an achievement, it's not a celebration for me. I actually can't put it into words. I'm just proud of my culture, proud of who I am, and so proud to share the stories of these beautiful women.
"There are so many different ways of telling the stories, and that's something I want to contribute to as well, to continue telling the stories through my artwork. That's what keeps the culture alive."
A cultural guide to going out and loving your city. Sign up to our Culture Fix newsletter here.
Most Viewed in Culture
From our partners
Source: Read Full Article