There's no doubt about it: Houston rapper Megan Thee Stallion, real name Megan Pete, is one of the biggest artists on the planet. She began her successful run after releasing a couple of mixtapes, but it was the project titled "Fever" that made her famous. Then a few months after that mixtape came out, Megan announced on Instagram that she'd signed a management deal with Roc Nation, owned by Jay-Z, which some might say showed just how big she became (via Fader). Hey, it's not every day that Jay-Z offers a new rapper a deal, then takes a photo with that person to show everyone that she's a part of his network. From there, Megan released her debut album "Good News," which topped Billboard's R&B and Hip-Hop album chart.
And on her journey to success, Ms. Stallion has racked up plenty of awards, performed at many award shows, and gave memorable speeches. Plus, she's rocked a lot of snazzy-looking outfits, more than a few of which have left the internet buzzing for days afterward. So out of those award show appearances, what are some of Megan's most iconic moments? To answer that question we compiled a list and detailed what she did, whether it was on stage, behind the podium, or on the red carpet. We can't talk right now, we're busy looking at some of the wildest award show moments from Megan Thee Stallion.
Megan Thee Stallion heats up the Grammy Awards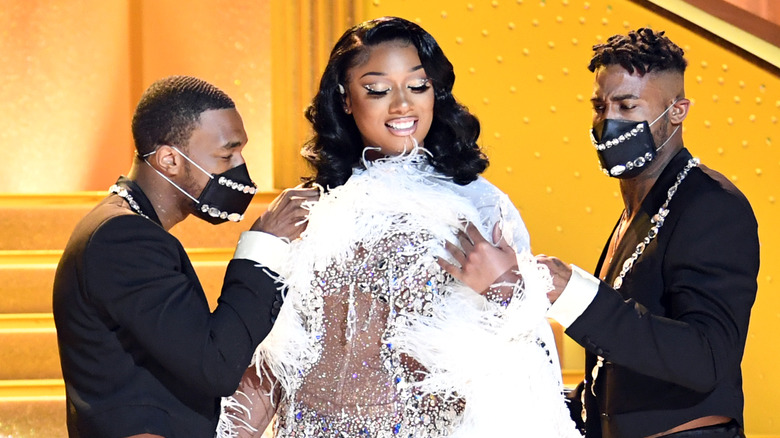 Megan Thee Stallion had herself one heck of a night at the 63rd annual Grammy Awards, which took place on March 14, 2021. Because in addition to winning Best Rap Song and Rap Performance for her "Savage" remix featuring Beyoncé, Megan took home the trophy for Best New Artist. The last female rapper to do so was Lauryn Hill, who earned the accolade all the way back in 1999. The Texas native accepted both awards in an orange Dolce & Gabbana dress, which she also showed off on the red carpet. 
Megan ditched the fancy gown when it was time to perform "Savage" and "Body," and wore some looks that were, let's just say, a little less conservative but nothing short of dazzling.
She started out wearing a feather-trimmed cloak over a bedazzled see-through bodysuit. As the set ramped up, two dancers took the cape to reveal the sparkling one piece in all of its glory. She left the stage for a hot girl minute before returning in a glittering leotard. Oh, and those garments weren't covered in any ol' rhinestones. As Vanity Fair noted, both the bodysuit and the leotard were adorned in Swarovski crystals. It was a performance that Megan's fans won't soon forget, and a lineup of ensembles that will be hard to top.
The many reactions to Cardi B and Megan Thee Stallion's performance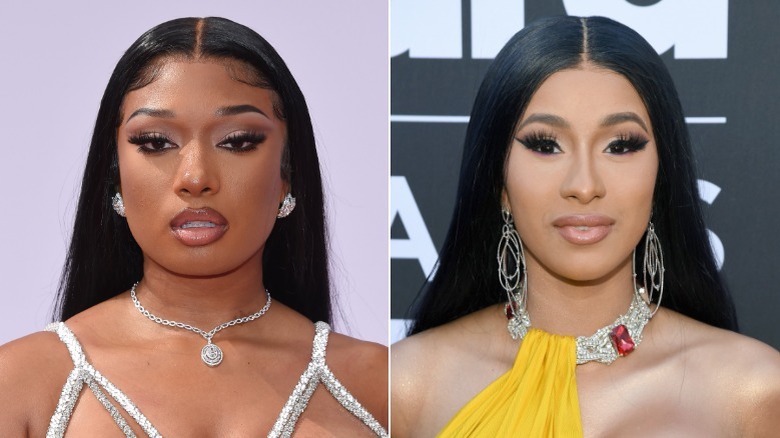 It was the performance that seemed to receive an equal amount of praise and complaints. 
During the 63rd annual Grammys, Megan Thee Stallion joined Cardi B for Cardi's single "WAP," released in 2020. First, Cardi performed her single "Up" and then sauntered over to a stripper pole made to look like part of a high heel shoe. She then began rapping her "WAP" verse, right before Megan walked on stage in a shiny, leg-baring outfit. But the controversial part of the performance came when both women got on a bed that took up a large part of the stage and began crawling on their hands and knees. They also gyrated while facing each other.
Many on social media said they loved Cardi and Megan's Grammys performance, but according to Rolling Stone, the FCC faced over 1,000 complaints. For example, as Complex noted, one commenter remarked, "The outfits they were wearing and the movements they did were absolutely disgusting." Another said that they wanted to sue both rappers. 
Megan didn't respond to the backlash of the performance but she did address the controversy surrounding the subject matter of the song. "When I saw all of the politicians in an uproar about mine and Cardi's 'WAP', I was just really taken back," she told Time. "Like, why is this your focus right now? If you have an issue with what I'm saying don't listen to it. Tune out, 'cause I didn't ask you to tune in."
Megan Thee Stallion and City Girls' Yung Miami shared a smooch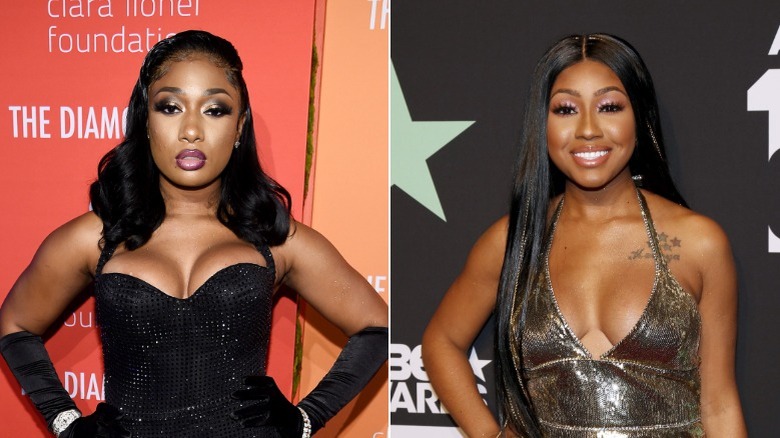 This particular wild moment may not have occurred during an actual award show, but it happened at an award show afterparty. And so, it counts. In June of 2021, right after the BET Awards ended, Megan Thee Stallion was seen at a Los Angeles event making out with Yung Miami of the Florida rap group City Girls. The post-award show gathering was called a "City Girls Celebration Dinner," and it was thrown by their record label Quality Control. TheJasmineBrand shared a clip of "their kissable moment" and surprise, surprise: The video went viral. 
Afterward, Yung Miami went on Instagram Stories to cause even more of a stir, writing, "@theestallion mine" (via The Source). Some on social media then began questioning if the two ladies were romantically involved, while others said they were just being playful for the cameras and those present. But regardless of what their relationship was at that time, they're at least musical collaborators: Megan and City Girls joined forces for the song "Do It on the Tip," which lives on Megan's "Good News" album.
Megan Thee Stallion goes for the gold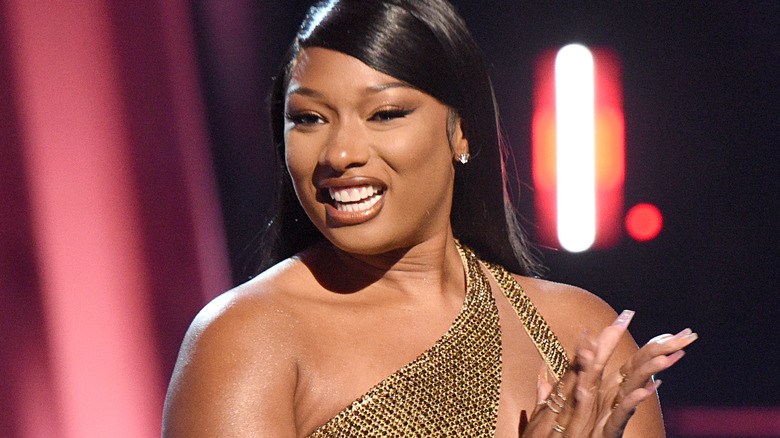 In July of 2021, Megan Thee Stallion announced on Instagram that her album "Good News" officially went platinum. But a few months earlier, she went gold at the iHeartRadio Music Awards at Los Angeles' The Dolby Theatre. And when we say gold, we're not talking about album sales — we're talking about something else: Megan sported a gold, custom-made Bryan Hearns dress that showed plenty of skin and received even more attention. She also completed the look with a pair of gold heels that wrapped around her legs.
The Texas native posted a photo of herself in the dress on the night of the award show and called herself an "iHeart Hottie" in the caption. In the comments, people expressed how much they adored the slinky number, calling the look "Beautiful" and "Amazing." Plus, there was at least one person so smitten they referred to the rapper as "Wifey." In addition to the rapper showing her wild side by wearing such a fun dress, she also took home a trophy for the "Savage" remix. What a night for Megan, wouldn't you say?
The champagne was ready for Megan Thee Stallion's VMAs speech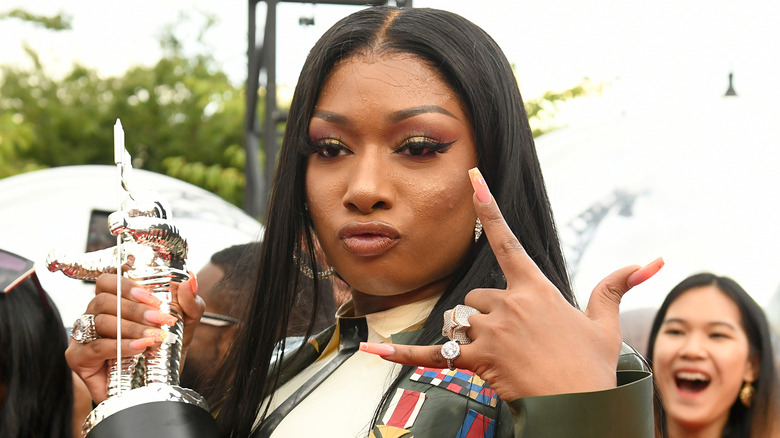 On July 12, 2020, Megan Thee Stallion's life changed in a matter of seconds. That was the night that Canadian rapper Tory Lanez allegedly shot her foot while they were in the Hollywood Hills. As reported by TMZ, the rappers got into an altercation inside an SUV after attending a house party, "someone fired shots in the air," Lanez was arrested, and Meg was taken to the hospital. As of July 2021, the case has yet to be resolved legally, but Megan was granted a restraining order against Lanez.
As Us Weekly noted, Megan Thee Stallion appeared in public for the first time since the shooting at the MTV Video Music Awards on August 30, 2020. She won the Best Hip Hop Video for "Savage," and like many other winners that night, she accepted the trophy virtually. Oh, and she had quite the prop too — and we're not talking about the Moon Person statuette. 
For her acceptance speech video, Megan had a pink bottle of champagne in hand. At one point, she popped the cork, which officially made the speech one of her wild award show moments. "This is my second moon man, definitely not my last," she said after giggling a bit. The "Suga" creator then poured out some of the bubbly while telling viewers that "We're going to keep turning up." It was a true rockstar moment for Megan and it also showed how resilient she is, considering the harrowing incident that she was involved in just weeks prior.
Hole-y moley, look at Megan Thee Stallion's dress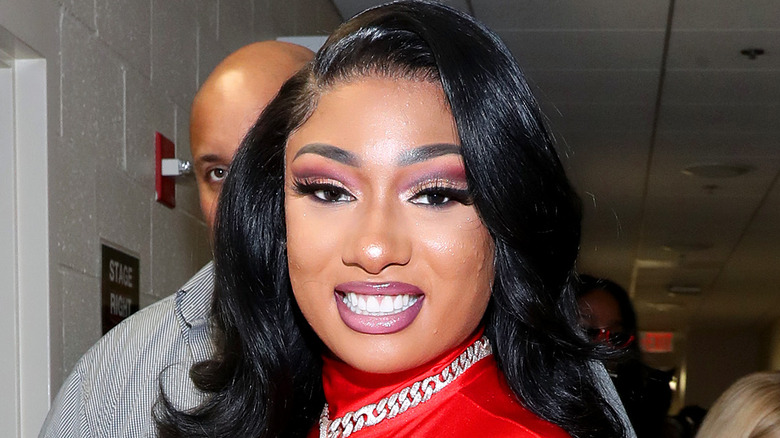 June 27, 2021, was certainly an eventful evening for Megan Thee Stallion. That was the night of the 21st BET Awards in Los Angeles, where she performed "Thot Sh*t,"  and won in four categories, including Best Female Hip-Hop Artist. And then, as the Daily Mail noted, she attended at an afterparty in a white dress with a hole lot of cutouts.
The outlet also shared photos of Megan hanging out with 'Lil Kim at the party and twerking in that dress, which had to be a sight for those in attendance considering the back of it also had a bunch of cutouts. Some of the guests at the celebrity-filled shindig included Chloe Bailey, Taraji P. Henson, Migos, as well as Busta Rhymes, and Megan partied with all of them. "Thank you to everyone that popped out to my midnight brunch 😛," she wrote on Instagram next to a few of the party photos. Anyone who tries to say the celebration doesn't look like a blast can cut it out. (See what we did there?)
Megan Thee Stallion introduced her new beau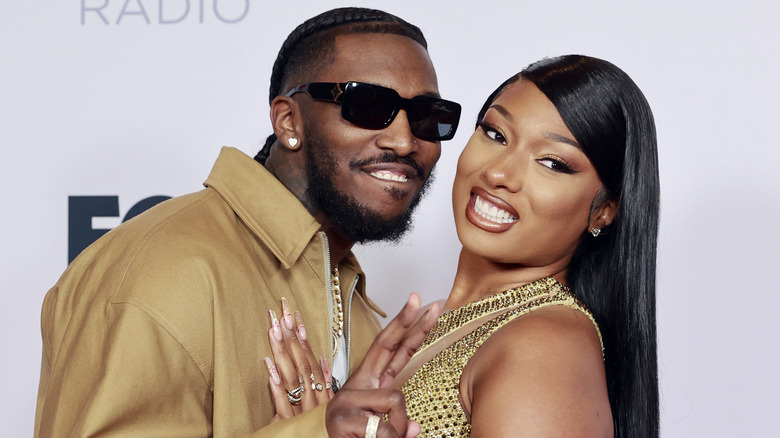 Megan Thee Stallion has been linked to rappers Moneybagg Yo, Tory Lanez, and G-Eazy in the past, but talk of her being with those men practically ceased when she began dating rapper Pardison Fontaine. Megan broke the news about her relationship with Fontaine on Instagram Live in February 2021, as Page Six noted, but they didn't make their first public appearance until several months later. They made their big debut at the iHeartRadio Music Awards in matching gold looks. 
They also showed a lot of public affection on the red carpet while hamming it up for the cameras pretty good. There was even one photo that shows Fontaine going for Megan's neck to kiss her, which was all over the Internet shortly after. As for Fontaine, he's known for being Cardi B's co-writer and helping to pen her smash hit "Bodak Yellow." 
"I love Pardi," Megan told Houston station 97.9 The Box about a month after the red carpet moment. "A lot of guys are scared to show their sweet side and Pardi is not one of them. He's very romantic and protective and he just makes me feel really protected so I like spending time with him because I feel very secure. One thing I know, he's gone have my back and I got his, so I love that."
No one twerks in barely-there pants like Megan Thee Stallion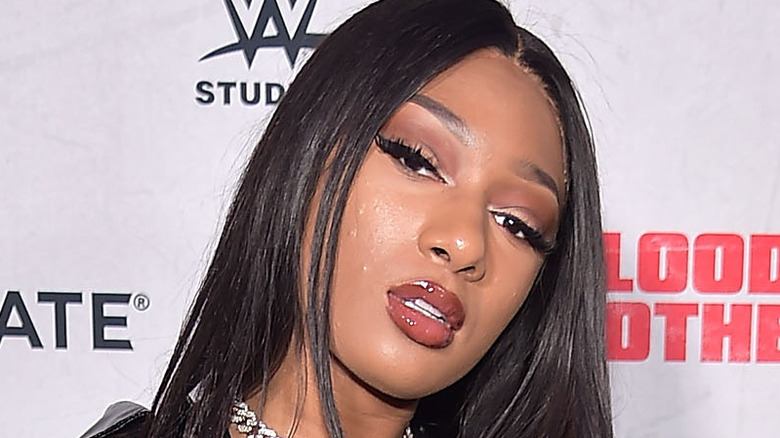 For some, watching an artist perform a hit song is their favorite part of an award show. Needless to say, the Hotties must've been thrilled when Megan Thee Stallion arrived at the 2020 Apple Music Awards with her, as Billboard recounted, "fiery six-song set." The rapper put on her deadly medley from inside an empty stadium and had a bevy of dancers dressed in orange. Visually, the performance had a trippy effect to it since the ladies performed on a large white ring, which they circled. The whole thing clocked in at over 20 minutes, and there was never a dull moment. 
So how does that count as a wild award show moment for the Houston lyricist? Because she and the backup dancers twerked in backless pants, something that made the already provocative dance even more risqué. Perhaps the highlight of the performance was when Megan and the rest of the ladies got down low and twerked in unison, showing off their impeccable body control, not to mention the strong leg and core muscles that move requires.
Megan Thee Stallion wowed many with a freestyle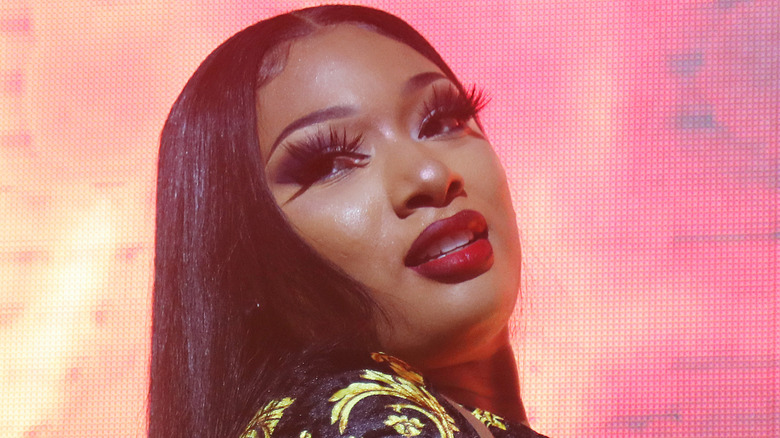 Oftentimes when an artist gets praised for their musical talent, it's after someone listens to a fully produced song that person made. But Megan Thee Stallion received tons of credit after releasing a freestyle verse from the parking lot of the 2019 American Music Awards. The rap star wasn't up for hardware that night, but if the AMAs were giving out trophies for artists delivering a stellar, seemingly unrehearsed verse on camera, she would've snagged one.
"I never kiss and tell, I abide by the code/It really ain't confusing, I f*ck with you or I don't/I'm 24 and single, ain't no ring on my finger/And if that [man] is looking good, you know I'm tryna mingle," she rapped. 
Understandably, a lot of people flipped out on social media after Megan posted the verse later that night; there were so many fire emojis left in the comments you could practically smell smoke. "Leaving the AMAs and giving the best performance of the whole night," wrote one of her Twitter followers. "Just talented! Whew. And breath control. My God!" another tweeted.
Megan Thee Stallion gave a slight tease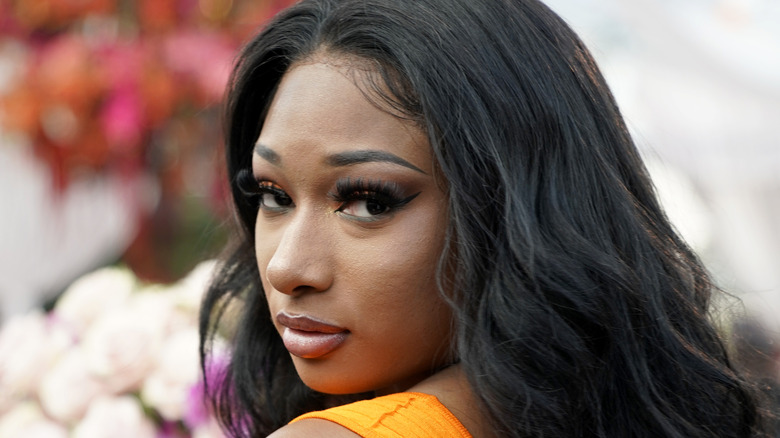 When it comes to dropping new music, it seems that some artists like to shock people by releasing it without trying to develop a buzz or do any pre-promotions. That move was invented by Beyoncé, who dropped her self-titled visual album in 2013 out of nowhere, and did the same for "Lemonade" in 2016. But there are some artists who like to hint at a new project, and that's exactly what Megan Thee Stallion did while talking to Giuliana Rancic on the Grammys red carpet in 2021. At the time, Rancic asked Megan what was next in her career, and the rapper seemed reluctant to offer up any info. But she soon relented and said a sequel to one of her hit songs was coming. "I will say, y'all just better be ready for 'Hot Girl Summer' part two," Megan teased. 
How is that a wild award show moment, you might ask? Well, "Hot Girl Summer" is a very big deal, and a sequel is sure to follow suit. In 2019, Megan released the single "Hot Girl Summer," and it was nothing short of a pop culture sensation. As Vox wrote, "That, combined with the first line of her song 'Cash Sh*t' — 'Real hot girl sh*t' — cemented the association between the term 'hot girl' and Megan Thee Stallion." So the mere fact that Megan dropped the news that part two of the craze is coming is pretty wild.
It's a bird, it's a plane, it's Sailor Megan Thee Stallion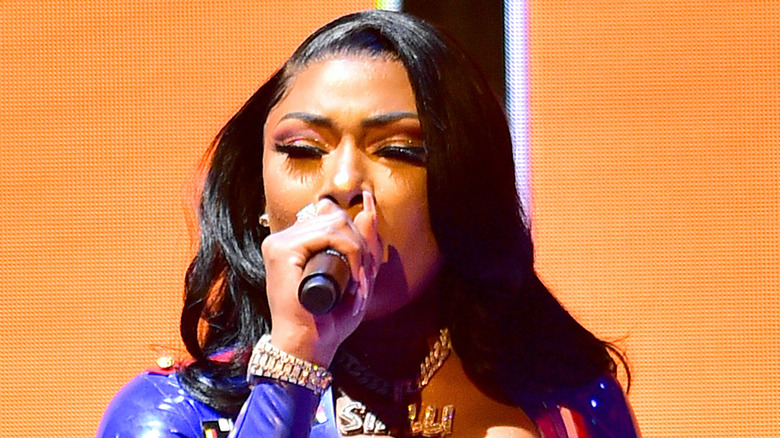 It looked like Megan Thee Stallion came to save the day when she performed at the 2019 BET Hip Hop Awards — literally. Dressed in an ensemble that looked like a sexy superhero version of a sailor suit, she delivered renditions of "Hot Girl Summer" and "Cash Sh*t." Yes, the backup dancers were dressed up like old-fashioned sailor girls, but Megan's outfit looked more Superwomanish than anything else. The Grammy winner sported a blue, possibly latex one-piece that hugged her tighter than a loving grandmother, plus a pair of red, knee-high boots. The only thing the rapper needed to enhance the costume was a cape and a big "M" for Megan on her chest.
At one point, North Carolina rapper DaBaby joined her on "Cash Sh*t" and made a memorable entrance by sliding onto the stage. He then performed half of his verse on his knees, which seemed to excite the crowd. But despite his theatrics, Megan still owned the stage, as her confidence, fierce raps, and sailor slash superhero outfit all came together nicely. Super, even. And we can't wait to see what her next award show performance brings. 
Source: Read Full Article