For me, the search for a dinner option that is healthy, quick, easy, delicious, and budget-friendly was never-ending. (I blame my mother's mouthwatering Indian food for spoiling me for life.)
Once I ventured out on my own cooking journey, I tried and failed to replicate her dishes, and although nothing that comes out of my kitchen will ever compare to her creations, the closest I've gotten is with Maya Kaimal's traditional jarred sauces ($4, Amazon).
Here's why I've been hooked on these sauces for the past five years: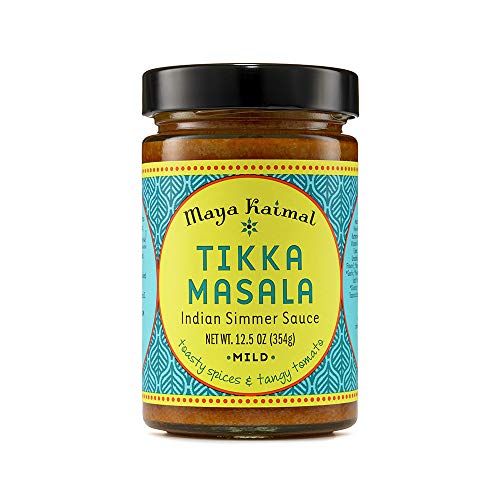 Everyone who has tried this loves it.
I recommended Maya Kaimal's jarred sauces to a few of my friends when we were broke college students, and every single of one of them got hooked and continue to buy them to this day (they're still thanking me with their food pics on Instagram). The spice blend is just as universally loved as the $4 price tag.
If you're nervous about dabbling in spicy food, don't be afraid of these. Each of the six sauces are labeled to be mild, medium, or spicy, so you can choose based upon your preference.
They actually taste like homemade Indian food.
My personal fear when I first tried these was that they would taste inauthentic, but that wasn't the case at all. In fact, the madras curry in particular is the closest I can get to eating my mom's food when I'm thousands of miles away from her kitchen. That said, the fan favorite amongst my friends is the tikka masala—I'll whip something up with it in a quick 10 minutes when I'm having friends over for dinner and want to fake that I spent way more time than I actually did on preparing a meal for them.
It's no wonder the sauces taste authentic—founder Maya Kaimal grew up around Indian cooking her entire life and even went on to publish a book called Curried Flavors that won a Julia Child award.
They make meal time easy.
I simply sauté some vegetables along with tofu or chickpeas for about three minutes, then add in the sauce and let that simmer for another five minutes. It's seriously that easy. I love my food really spicy, so I'll throw in some extra garam masala and red chili powder for some kick, but that's all I need for a complete meal that feels like it should have taken a lot more work than it did.
If I'm feeling extra indulgent, I'll also warm up a bit of her Turmeric and Cumin Surekha Rice, which really does taste just like something I'd get at a five-star Indian restaurant in Mumbai.
Whether you're on a budget or just want to start dipping your toe in the delicate world of Indian home cooking, you have nothing to lose by trying these tasty and traditional sauces.
Source: Read Full Article