Seattle-based Macklemore is an entrepreneur, a Grammy-winning artist, and — most recently — a brand founder. He's also a huge sports enthusiast and NBA fan, and part-owner of the Seattle MLS team the Seattle Sounders. But aside from all of that, he's a golfer, too.
Since 2018, Macklemore's growing obsession with golf has led to him juggling a remarkable career in the game. He recently participated in a five-hole match play event that aired on PGA TOUR LIVE alongside A-listers like actor Alfonso Ribeiro. The AT&T Every Shot Counts Charity Challenge raised more than $1.6 million USD for Monterey Peninsula Foundation charities, with Ribeiro and Macklemore taking the win.
Macklemore and his work has long been connected with inclusion and equality. Although it's not as well-known as some of his other projects, he is an advocate of diversity, and believes that golf should be open to all walks of life.
Prior to this debut collection of his Bogey Boys clothing line, Macklemore conversed with HYPEGOLF, where he spoke about his personal relationship with golf, and what inspired him to create his new clothing label.
HYPEGOLF: You've won four Grammys, and have created lots of music. What's the process when you're thinking of apparel design for Bogey Boys? Is it the same formula you've developed like for these award-winning songs?
Macklemore: You know, it's a great question for me. Design has always been an integral part of the creative process, and that's come in the form of merch designs. Posters, album artwork, music videos, and design have always been everything you can imagine on the creative side. This has always been something that I have done in-house so, transferring that into doing apparel was a really natural transition.
Obviously doing cut and sew garments is a different world. It's one thing to come up with the design and a different thing to get that sample back. You start making alterations, measuring quarter inch here half an inch, sending those measurements back… all the tech specs of the work have been a journey and definitely a new endeavor. …It's something that I've been passionate about and definitely has been in my wheelhouse.1 of 6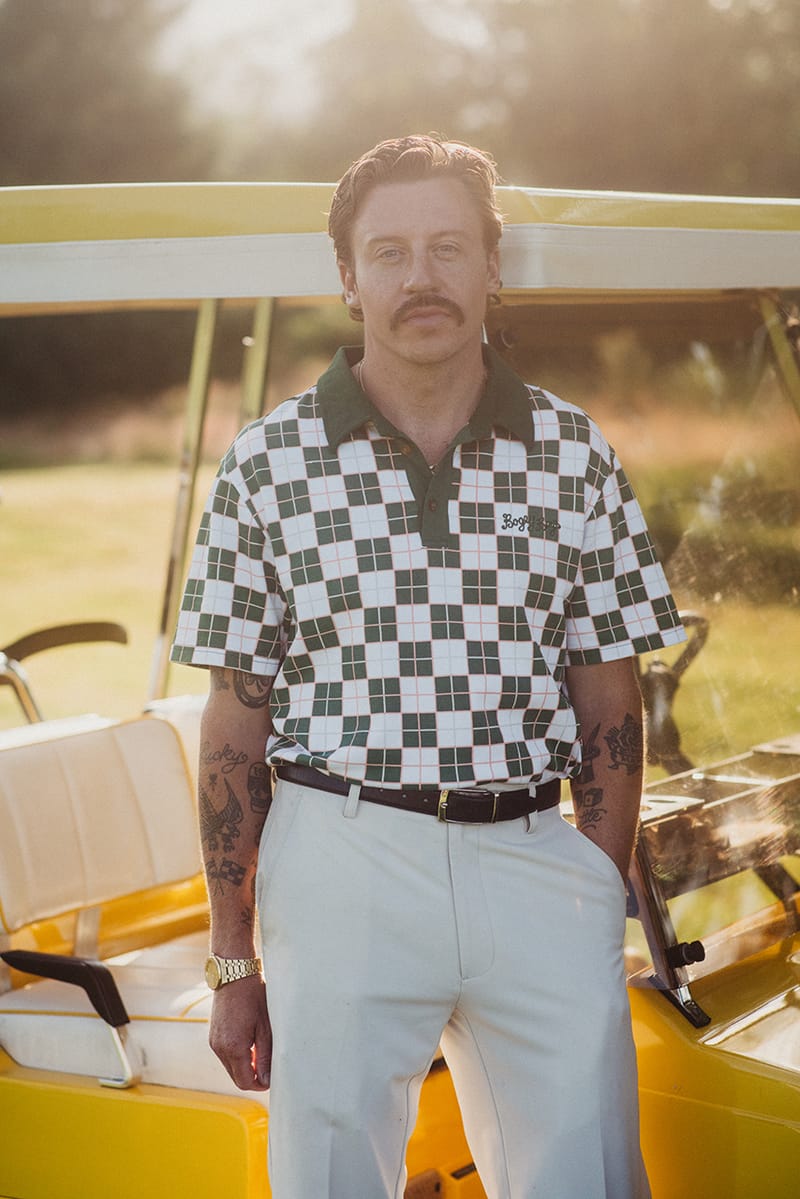 Bogey Boys2 of 6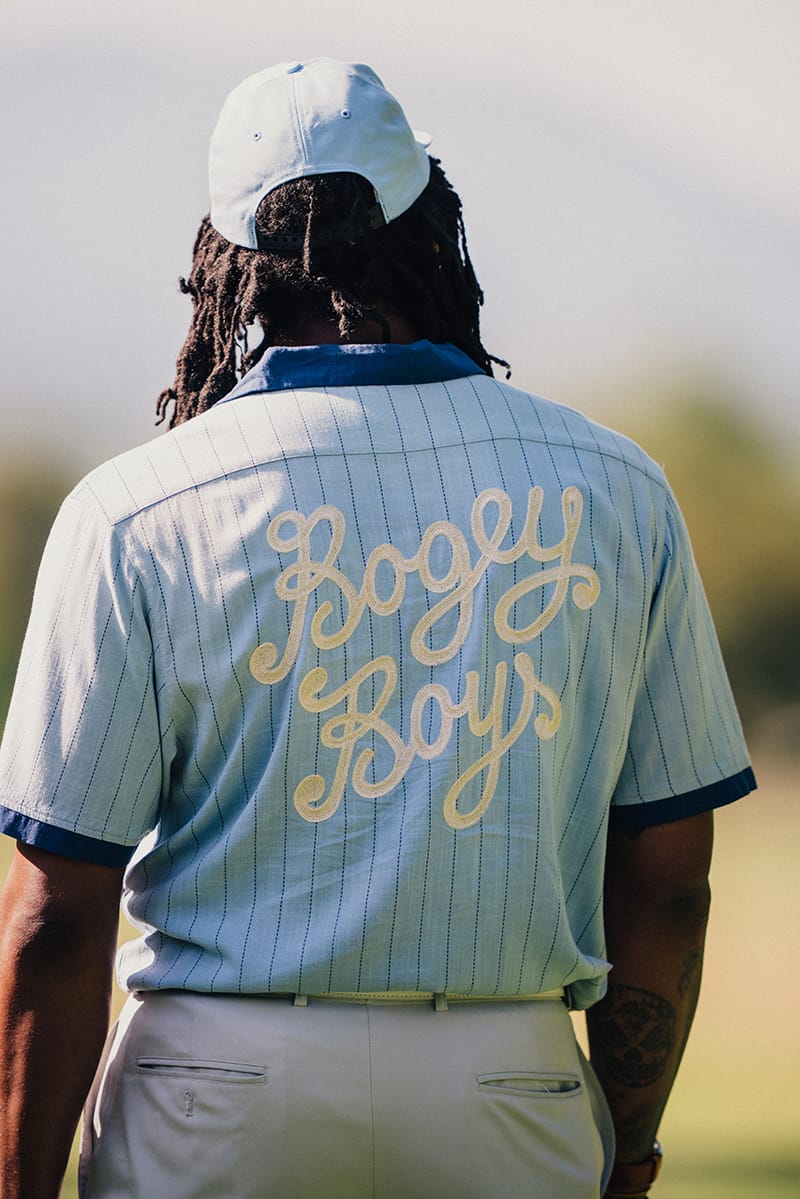 Bogey Boys3 of 6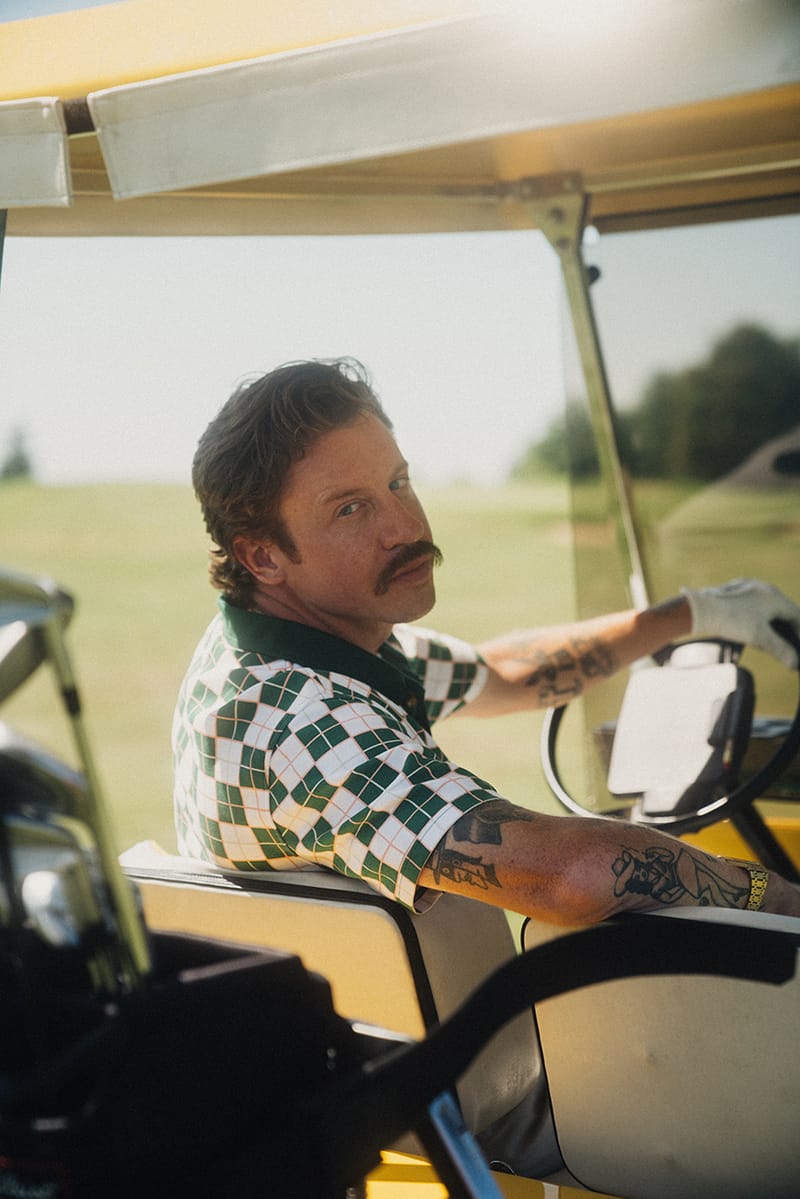 Bogey Boys4 of 6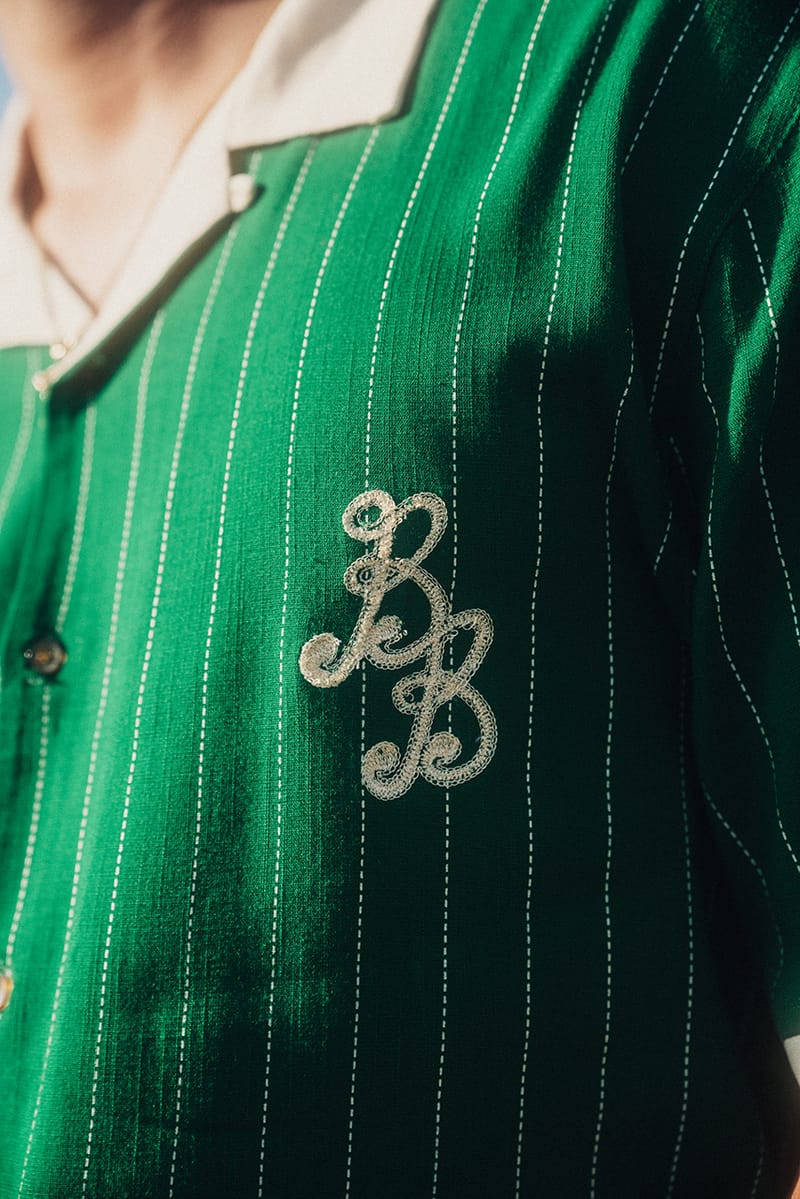 Bogey Boys5 of 6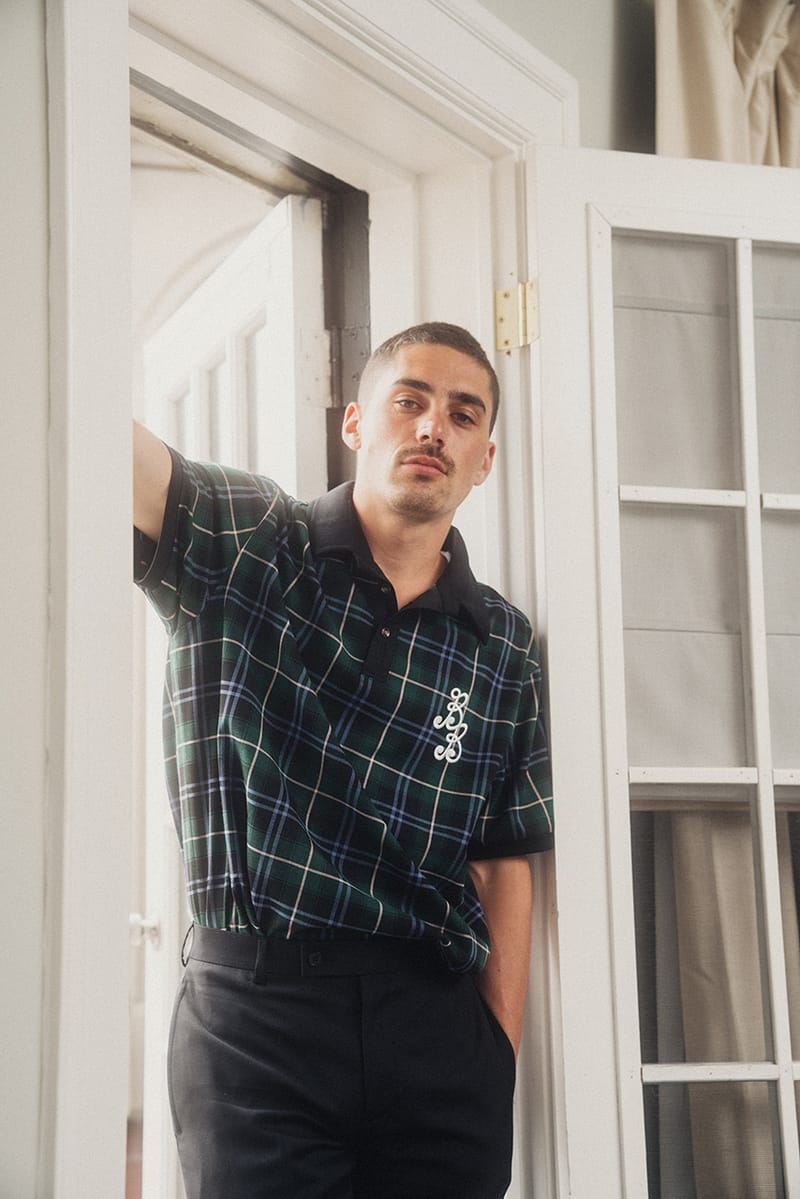 Bogey Boys6 of 6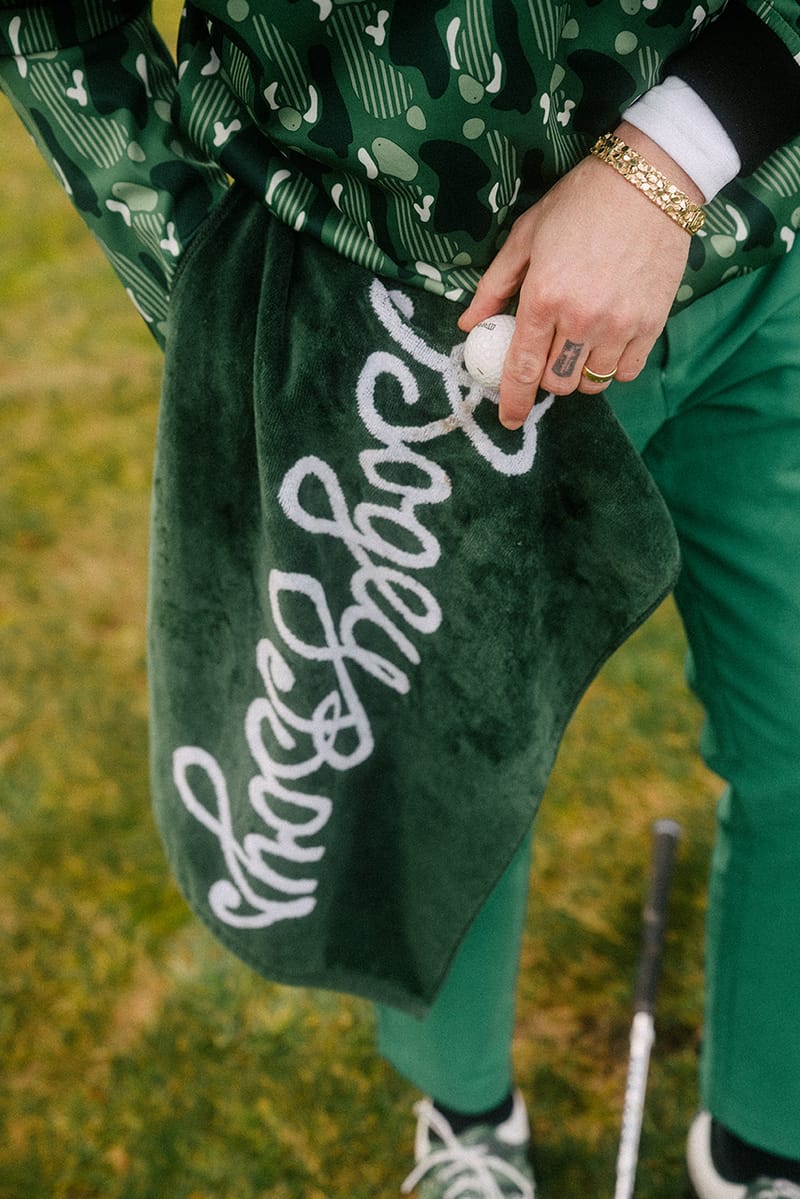 Bogey Boys
Considering that golf is so quiet and controlled, how do you put together a recipe to build a golf-inspired streetwear brand?
I think that golf is controlled and quiet because that is what the market offers right now. It's not exciting. It does lack creative free skin. There is an absence of originality within. …You go into a pro shop, and it is the same handful of promos in varying degrees of gray, white, black and navy, and blue. There isn't a ton of options.
Anything creative is going to take work, time, and energy. And I think that there is a grind, that comes from making music and designing clothes. There are different seasons between both of those creativities. When you sit down and do a season too, 'let's take some inspo pieces. Let's start drawing some stuff up,' that's when those free ideas come in.
Where it turns more into work is when you have to refine those things. Going through the lookbook and piecing it all together, making sure that it's cohesive and that the mix is right on a song. Going back and forth with the mastering engineer; it's that attention to detail that are just as much a part of the process and can be more tedious and time-consuming.
"I like Tiger [Woods]'s fits, particularly like old Tiger, like with the baggy pants. He was killing it."
Who are your fashion inspirations? What current golfers do you believe have the best style?
In terms of fashion influences, I mean for me, I really went back in the day… to what people in the 70s were doing, even the early 80s, but I wanted to make something contemporary. So, instead of listing a bunch of fashion designers to me, I went to what fools were wearing back in the heyday of golf and style. …The current players are in a very similar polo, and there's like no hedge fund logos on there and, you know, private plane sponsors, and no one currently is really able to even stand out on tour. So, it's difficult even to say who's really killing it right now.
I'm a Nike-head so, I tend to just like Nike product over other brands in the golf space. Nike over other brands that are on that tier of a Nike. I think that in terms of who's got good fits on tour, I think Brooks [Koepka] looks cool. I think Jason Day looks cool. Rory [McIlroy], …Tommy Fleetwood, those type of dudes would look good in Nike.
Obviously, I like Tiger [Woods]'s fits, particularly like old Tiger, like with the baggy pants. He was killing it, but I think a lot of these dudes get locked into endorsement deals, and even if they wanted to kind of step outside the box. Those garments that aren't readily available. So it's challenging to currently pick someone that's pushing the envelope on the style front on the tour.
How often do you play golf? What's your best ever score and how good of a golfer do you believe you can become?
I am playing roughly three times a week on a good week, it's four on a bad week. On a really great week its five, but that's rare. Obviously, with COVID I'm not touring but when I was, I was playing damn near every day. In Europe, I would [be] waking up early, and driving to the closest course. So I'm looking forward to the tour and getting back out into random courses, all over the world.
It's definitely a perk of the job that I only got for one summer, but my best score is 78 and 79. I think, just like anything, it all comes down to how much work you put in, and I just did an AT&T Pro-Am, and I tried to switch some things in my swing like last minute before I went down there which didn't exactly translate to the scorecard. I mildly regret doing that in the fourth quarter of getting prepared.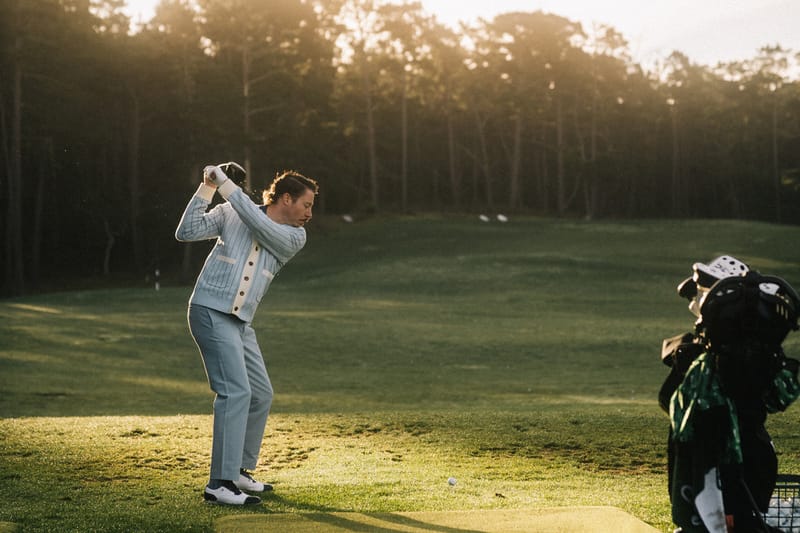 Bogey Boys
It's humbling, there are all different sorts of courses, going down and playing Cypress and Pebble, the greens are super fast. There's a handful of other waterholes at Pebble, but Cypress is really beautiful, but the daunting course I was just humbled. …It's different than playing municipal golf in the Northwest, where it rains all the time, and the ball tends to stay on the green particularly. I hope that I get the handicap by the end of the summer in the single digits.
I haven't been able to enter scores. Thankfully, because I'm definitely not playing my best golf at the moment, but you know I ended up at around 15 or 16 or something like that. I hope by the end of the summer I'm into the nines and really just going from there. I think that this is the journey, this is going to be lifelong, and I would love to get my handicap down as low as possible. I don't know if I'll ever be a scratch golfer, but I'm definitely aiming at that, of course.
We love to see you get hyped on golf. What equipment are you gaming with these days?
Funny question because it's changing all the time. I have some PXG irons that probably have a bit of wear and tear on them. I am about ready to get something new and figure out what that is. I am then using the Callaway Epic Flash on the driving side, along with the Maverick hybrid and the Maverick three wood. I just switched over to the TaylorMade Spider putter, and I have Callaway wedges. So, I'm a bit all over the place.
It sounds like you're set up pretty good.
Yeah, I really liked it. It's crazy how I got into it into golf two years ago, and I immediately was like I need to get all these Scotty Cameron's. So I have a bunch of Scotties, but there's something about the TaylorMade Spider in the balance, and I putt a lot better.
"I want to make golf readily available and we're working to kind of de-stigmatize this game which has historically been this rich white male sport."
Golf has also become more diverse and is now being played by folks from all walks of life. Why do you think golf has become so popular?
Due to COVID, golf is one of the only activities outside; it's been safe to play. I think that there was a definite surge there and more people are experiencing. Top Golf has evolved the game and I think driving ranges have evolved the game. I think this is becoming one of those sports that people are like, 'you know what, let me go out and try that.' All it takes is connecting with one ball, and you're like, 'ooh, I want that feeling again.' That's how golf gets you and when the addiction happens.
There's a long way to go in terms of progress, and really evolving the game. In terms of inclusion, and that's definitely the mission of Bogey Boys. This is something that I'm looking forward to and we're in talks of partnering with different organizations and making sure that any person, any youth that wants to pick up a club, has access.
I want to make golf readily available and we're working to kind of de-stigmatize this game which has historically been this rich white male sport. I'd like to expose it to as many people as possible. I would have never thought I'd be launching a golf brand and be completely obsessed with this game and I would never have guessed that, and it just got me. I understand why people get completely utterly obsessed with this sport. This is something that everyone should have access to play with if they want to.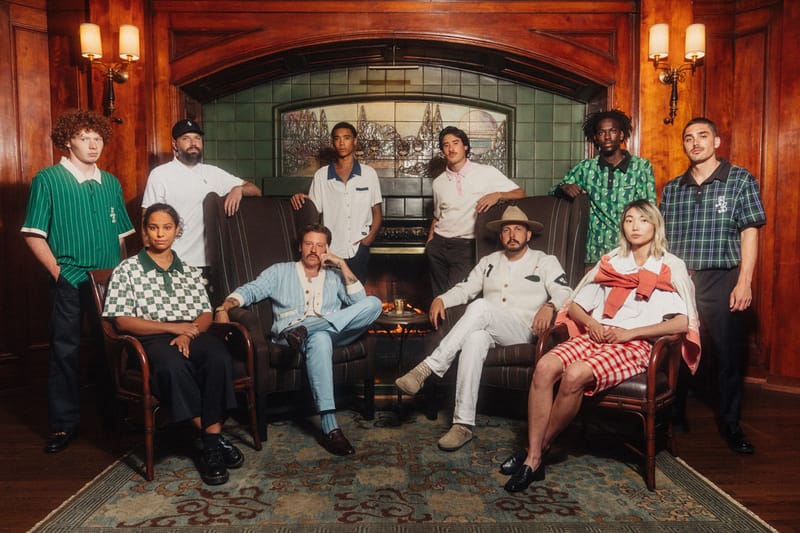 Bogey Boys
Who is your favorite golfer you'd like to play with?
I'd love to play with [Roger Steele]. We've been talking a little bit online, and yeah, he's been on the tip of talking about diversity and inclusion in golf. He's been coming with some great content in the last couple of days that have really resonated with me. He is evolving the game and in the areas that still need to grow. It's very disheartening to read the comments on some of these golf Instagram accounts. There are a very diverse group of people with very different perspectives in terms of racial equity, in terms of racism in America, in terms of systemic oppression and very different analysis. So, that, of course, translates to the game and who plays it. So there's a long way to go.
When Tiger [Woods] turns it on and gets his zone, I don't think there is more entertaining golf. And, hopefully one day, I get to play with Tiger. That would be incredible in terms of playing with [someone].
I haven't played with a ton of pros. But my favorites to date: my guy Lanto Griffin. We did the Pro-Am last year at Pebble Beach. He's a great dude, and we had a fantastic time even though I played horribly, and Jason Day. That's another. …He's the nicest dude, the homie. And obviously a great golfer so. Those two guys would be the top of the list.
I love playing with random dudes that you get paired with at a muni. [And] I love playing with some pros. I love playing with people that are better than me. I love playing with people that I'm just slightly better than. But it's competitive, but I can still get the W. So, I love playing the sport.
Source: Read Full Article