Prince William and Kate Middleton have had a busy week so far, after attending the No Time To Die premiere on Tuesday, they headed over to Northern Ireland for a public appearance. They began their trip with a visit to Ulster University's Magee Campus followed by a stop a the campus' petting zoo where they got up close and personal with the zoo's residents.
During their visit, the Duke of Cambridge held a snake, which he revealed his eldest son, Prince George, wouldn't be too happy about. "George is obsessed with snakes, he's going to be so upset he missed this," he said to the snake's handler, "The children are not going to believe I did this."
Commenting on the experience, Prince William said the snake was "very soft" and admitted it was "very cool" that he got to hold it. Meanwhile, Kate Middleton got acquainted with one of the petting zoo's spiders, a tarantula named Charlotte. "Is she really?" Kate laughed, after being told the spider shared the same name as her daughter.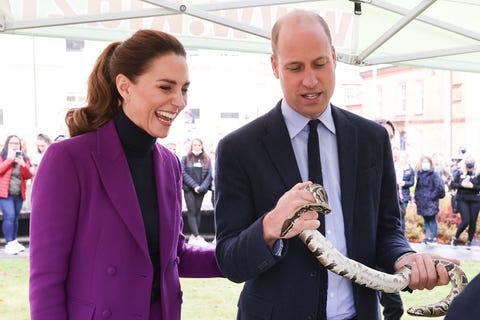 The Duchess of Cambridge could be seen smiling as she held the spider, which started to crawl up her arm. Her husband joked that perhaps Charlotte was attracted to Kate's colourful pant suit. "Maybe she's not so keen on purple, or she maybe thinks you're a flower," he said.
The Cambridge children, Prince George (8), Princess Charlotte (6) and Prince Louis (3), are known to have a fond appreciation for the outdoors, and particularly love spiders. In 2018 on a visit to Sayers Croft Forest School and Wildlife Garden in Paddington, Kate revealed that she spends "hours" hunting for spiders in the garden with the kids, according to HELLO!.
Zoe Stroud, interim headteacher at the school, showed Kate around and afterwards said: "She was lovely. She really gets what we are doing here and said she often takes her children on spider hunts in their garden, which they love. They can spend hours out there. She really understands the value of being outdoors for children, especially those in cities whose schools and homes may not have open space and sometimes never had the chance to get their hands dirty. They just love it here."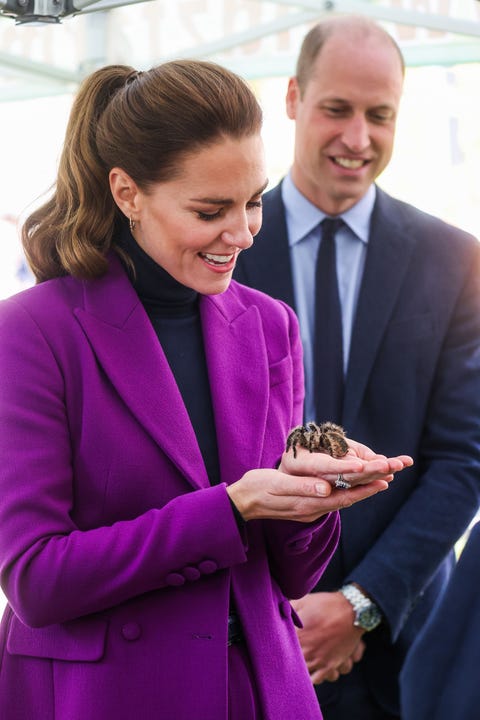 It's likely that the Cambridge children have stayed at their home in Kensington Palace while their parents are away, given that it's currently school term time. But we're sure they'll be eager to see photos of Kate and Will's trip when they return.
Source: Read Full Article