In the wake of Norm Macdonald's devastating death, fans and friends are remembering the comedy icon for his legacy as one of "Saturday Night Live's" most memorable and influential comedians. Macdonald died at age 61 on September 14, nine years after he was diagnosed with cancer. The heartbreaking news was confirmed to Deadline by his management firm Brillstein Entertainment. Macdonald's longtime producing partner and friend Lori Jo Hoekstra, who was with him at the time of his death, also opened up to the outlet, saying the late TV personality never spoke his cancer because he didn't want "the diagnosis to affect the way the audience or any of his loved ones saw him."
Instead, Macdonald wanted his fans to relish his witty jokes and hilarious one-liners. "He was most proud of his comedy," Hoekstra proclaimed. "Norm was a pure comic. He once wrote that 'a joke should catch someone by surprise, it should never pander.' He certainly never pandered. Norm will be missed terribly." In the years leading up to his death, Macdonald was a staple as the voice of Pigeon on "Mike Tyson Mysteries" from 2014 to 2020, in addition to "The Orville," "Skylanders Academy," and "The Middle." He also made countless appearances in films like "Dirty Work" and "Grown Ups," as well as TV shows and Comedy Central stand-up performances. But there's one specific bit, in which Macdonald jokes about cancer, that now has a whole new meaning. Keep scrolling for details.
Norm Macdonald used stand-up to explain why he didn't like the term 'battle' cancer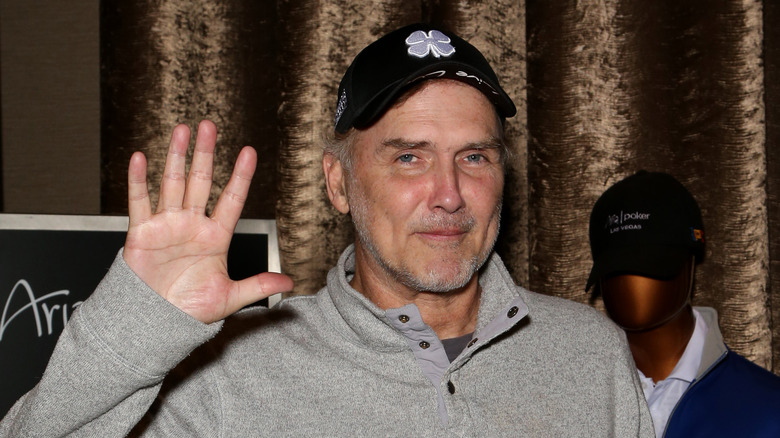 Despite being diagnosed with cancer nearly a decade ago, Norm Macdonald kept his prognosis a secret while continuing to work in Hollywood up until his death on September 14. As fans began reflecting on their favorite memories of Macdonald after the news was confirmed to Deadline, a clip of the star surfaced on social media, featuring him joking about cancer. Back in 2011 during his "Me Doing Stand-Up" TV special, Macdonald created a bit on why he "[didn't] like" when people say one is "battling" cancer. 
"In the old days, they'd go, 'Hey, that old man died.' Now, they go, 'Hey, he lost his battle.' That's no way to end your life. Ya know, what a loser what guy was. The last thing he did was lose!" Macdonald quipped as the audience erupted into laughter, according to a video on Twitter. Going on about how the term "battle" makes one sound "cowardly," Macdonald said, "I'm pretty sure, I'm not a doctor, but I'm pretty sure if you die, the cancer also dies at exactly the same time. So that, to me, is not a loss. That's a draw."
Fans felt it was unlikely that Macdonald's outlook changed as his life continued, but they did wonder if the comedian had already been diagnosed with cancer when he created the routine. "He probably already knew when he wrote this joke," one Twitter user replied to the clip, while another added, "Just what I was thinking. Damn."
Source: Read Full Article