Duchess of Cambridge Kate Middleton and first lady Dr. Jill Biden met for the first time on June 11, the first full day of the G7 economic summit in England, per the Daily Mail. The visit comes after the first lady and her husband, President Joe Biden, met with British Prime Minister Boris Johnson and his wife Carrie. The British royal and Jill Biden held a round table on education, according to the site, discussing "female empowerment, children and early education" — all topics that both the FLOTUS and the duchess are passionate about. According to The Hill, they were also joined by education experts from the U.K., as well as three from the U.S., who they spoke with over Zoom.
First, however, Kate and Jill toured the Connor Downs Academy, where they met with children who were about 4 to 5 years old, which is just a bit older than Kate's youngest child, Prince Louis. Per The Hill, the school works with children who have dealt with trauma, and uses animals, like rabbits, as a way to teach the children nurturing skills. 
The students seemed to at first be in awe of the royal and the first lady, who both looked stunning in pink. As the Daily Mail noted, Jill even joked, "They've scared to death," while Kate added, "It's the quietest class I've ever been to. How old are you?" The children eventually seemed to warm up to the pair, and they had quite the special visit.
Kate Middleton and Jill Biden helped the children feed the school's bunnies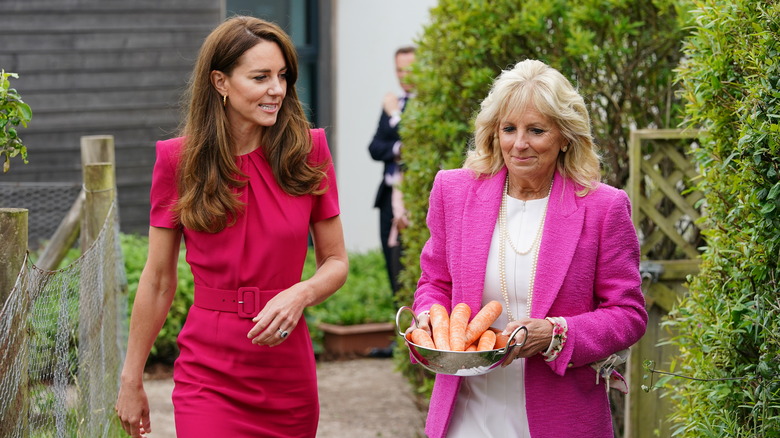 First lady Dr. Jill Biden and royal Kate Middleton had heartwarming interactions with the school children during their visit. People reports that lot of the princess' public work focuses on the early years of a child's life, while Jill is an educator herself who's been an advocate of teachers and schools. Per the Daily Mail, the students and teachers told them what the kids were doing to make the world a better place. Kate and Jill, who were sitting next to each other at a children's table, also spoke with the students, asking their names and about their drawings.
When discussing the children's reading, Kate asked Jill if she knew the book "Greta and the Giant," to which the first lady replied, "I know Greta, of course." The FLOTUS later praised the school and the kids, saying, "As a teacher at the upper levels if they don't have a good foundation they fall so far behind. This is amazing to see how far advanced they are."
But perhaps the most endearing moment was when Jill and Kate met one of the school bunnies, Storm, and Jill even brought over carrots to the children to help feed the rabbit. Another notable moment was during a Q&A session when Kate wished her niece, Prince Harry and Meghan Markle's daughter Lilibet Diana, the best. She added, "We haven't met her yet. I hope that will be soon."
Source: Read Full Article