Robyn Lynch's Irish roots shine through all of her work: the London-based designer, and Fashion East alumnus, has referenced her home country since her earliest collections. Lynch's Spring/Summer 2019 collection was split into three distinct colors, with models wearing full looks in green, white and orange in homage to the Irish flag. Other collections, including Spring/Summer 2021, have celebrated the Dublin community in which Lynch grew up; the designer frequently uses reworkings of traditional Irish clothing as motifs, including the classic Aran knitwear.
But this wasn't always the plan. When Lynch left Ireland to obtain her master's at Westminster University in 2016, she didn't intend to celebrate the country so clearly in her work. "When I was studying in Dublin, I couldn't wait to get further from Ireland," she remembers, "but when I came over here, I had something special that no one else could bring to the table in terms of references, old family photographs and traditional clothing. The juxtaposition of being from somewhere else in a different country, having that culture that no one else had in my class."
"I had something special in terms of references, old family photographs and traditional clothing."
And by referencing her own memories of growing up in Ireland, Lynch has been able to able to involve her family in the design process. "When you can share an image with your family, or ask your parents for references, it makes everything so much more enjoyable than getting a book about a painter from the '60s who I know nothing about. When something comes naturally, everything becomes a lot easier." While asking her family for references and inspiration adds a personal touch, it has also helped Lynch fill a gap in the more anglo-centric institutional knowledge she had access to.
While researching during her MA, Lynch was unable to find books showcasing Irish youth culture. In a sea of books and articles about different British subcultures, Pony Kids by Perry Ogden was the only book in the Westminster library that Lynch could relate to. "We have that [youth culture history], but I wanted to shine a light on it," she continues. "That's a common thread throughout my work."
The vision of Ireland that Lynch presents in her work is rich in nostalgia and humor. Speaking about these influences, she talks about her own adolescence and growing up "on the cusp of change" in the '90s and 00s, just as social media began to take hold and shape our daily interactions. "It was such a different energy than now," Lynch says, "It was a different world. I take joy in looking back at that time."
Lynch's latest project, which launches today, is a collaborative collection with Rapha, which made its debut during London's first digital fashion week in June. Lynch connected with the brand after seeing creative director — and fellow Irishwoman — Ger Tierney share one of her images on Instagram. Lynch asked Tierney if she could pick her brains about the brand, speaking about Rapha products and sharing cycling and photography books.
For Tierney, the desire to collaborate with Lynch came from their shared roots. "Being Irish, Robyn's work obviously really spoke to me," she tells HYPEBEAST. "There's so much passion for culture and history in her work. Her use of knitwear and print is pure nostalgia, yet I've never seen anything like it before."
"I love to work with creatives who have not worked in cycling before, and seeing what spin they might have on the sport," Tierney added. "By taking Rapha's signature performance pieces, she reworked them into something else completely. Most importantly, the project was built around the deadstock and that was really the most exciting part of it."
Although the conversation between the two began on Instagram, their collaboration itself came about through necessity. As COVID-19 spread across the world and lockdown measures came into effect, Lynch was hit hard by retailers cancelling their orders. Looking around for an injection of cash, Lynch decided to take part in the British Fashion Council's digital showcase. "I asked Rapha if they had anything to donate that I could upcycle, recut and make into new hybrids," Lynch remembers, "Ger sent me a bag of things. I didn't know what to do with it." The items began to take shape, and an impromptu photoshoot with her stylist Ben Schofield and artist Joe Cruz followed. "It was so effortless, we just weren't thinking," Lynch continues. "It was funny seeing the difference between a big-scale production and something so much more effortless, how both can have equal impact."
"It's about how I can bring something traditional into the 21st century."
After the initial presentation at London Fashion Week, Lynch was contacted by Browns about producing a larger collection. "I said yes before I'd even asked Rapha," Lynch remembers, although Rapha was keen to help and Tierney gave Lynch boxes of old samples and materials, "I've just been in my flat since then, cutting up old jackets."Speaking about the collaboration, Browns' junior menswear buyer Joe Brunner pays tribute to Lynch's work. "It feels incredibly genuine and organic. The whole character of the brand is unique, the way in which it carries itself, from the product to the editorials… it's all authentic. It's nostalgic, it looks to the '80s and '90s and that resonates with a lot of people in the industry today."
"I love that the collection combines Robyn's '90s casual wear with the technicality of activewear," he continues. "Uniting Robyn's familiar knitwear with nylon and water-resistant jackets is no easy task." For Lynch, that merging of heritage with performance was a vital element of the project. "These Aran jumpers have such a resonance in Irish history," she adds. "They were built for sailors going out to sea to keep them warm. It's a traditional, staple piece, but I would never wear one now. So it's about how I can bring something traditional into the 21st century." In many ways these items are an encapsulation of what Lynch is doing with all of her work, taking a nostalgic Irish influence and reinterpreting it to work for the present day.1 of 8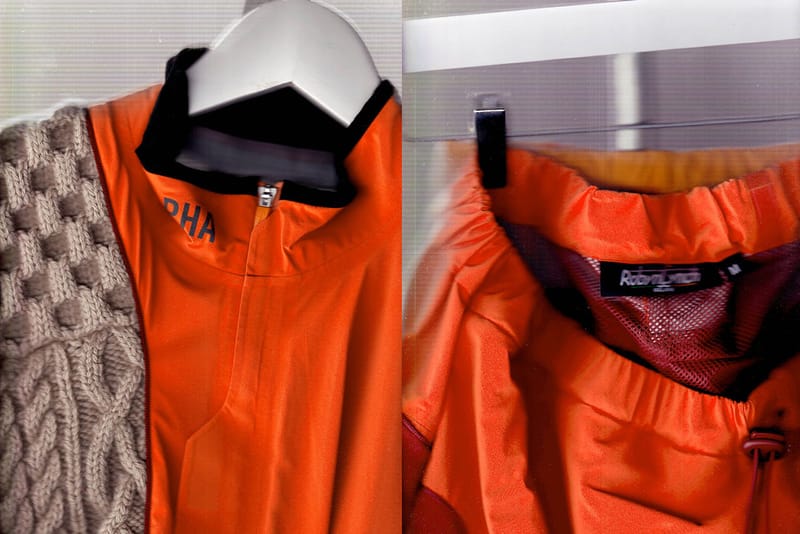 Browns / Robyn Lynch2 of 8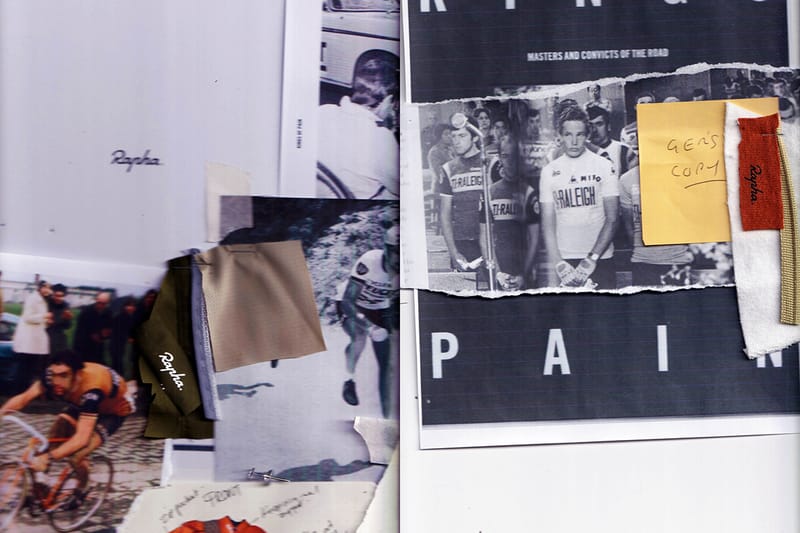 Browns / Robyn Lynch3 of 8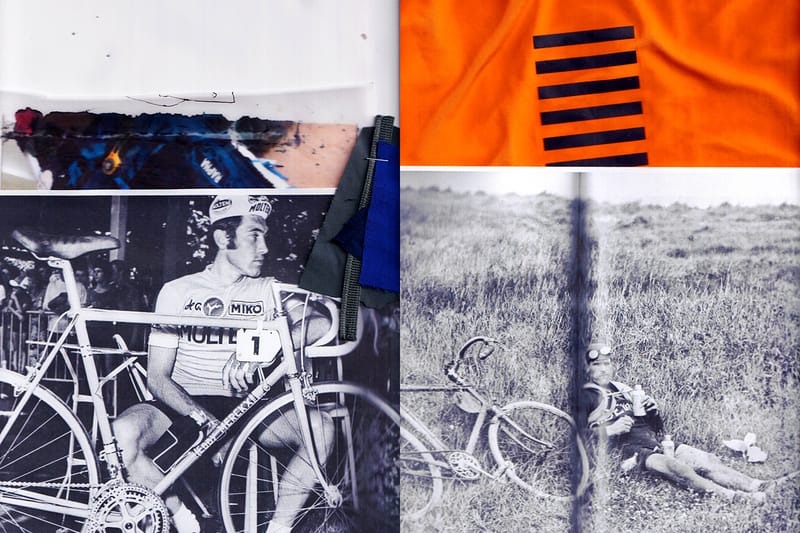 Browns / Robyn Lynch4 of 8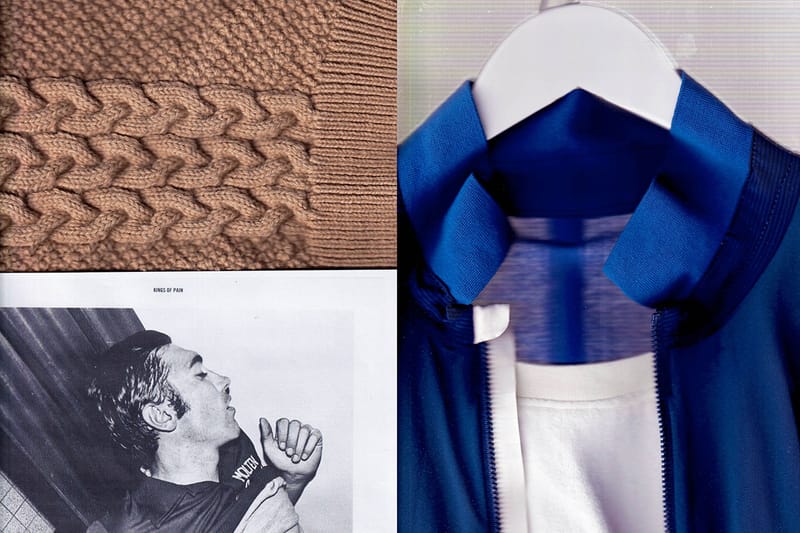 Browns / Robyn Lynch5 of 8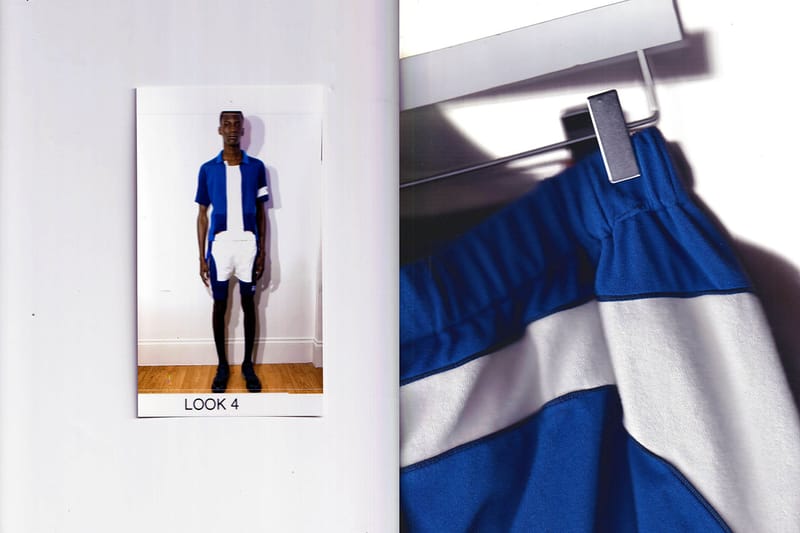 Browns / Robyn Lynch6 of 8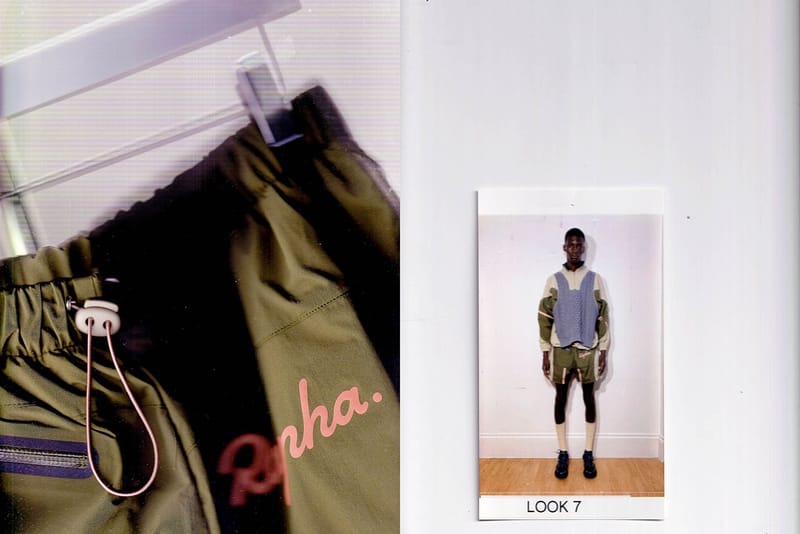 Browns / Robyn Lynch7 of 8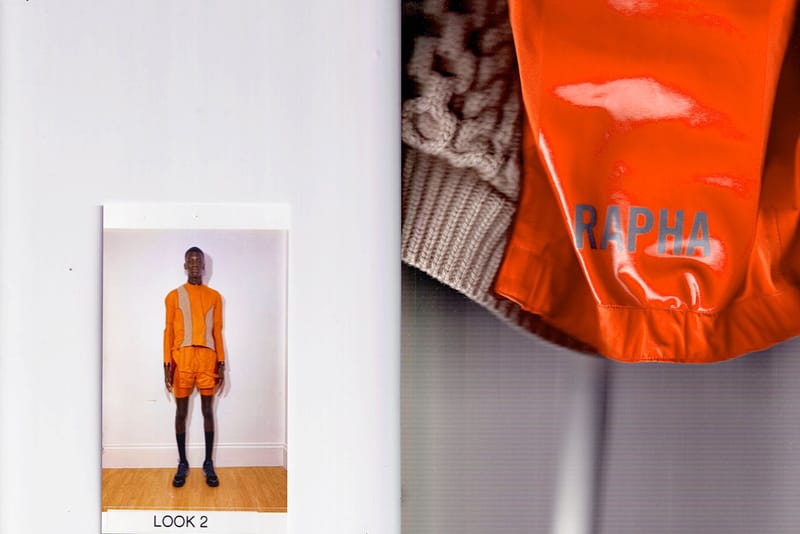 Browns / Robyn Lynch8 of 8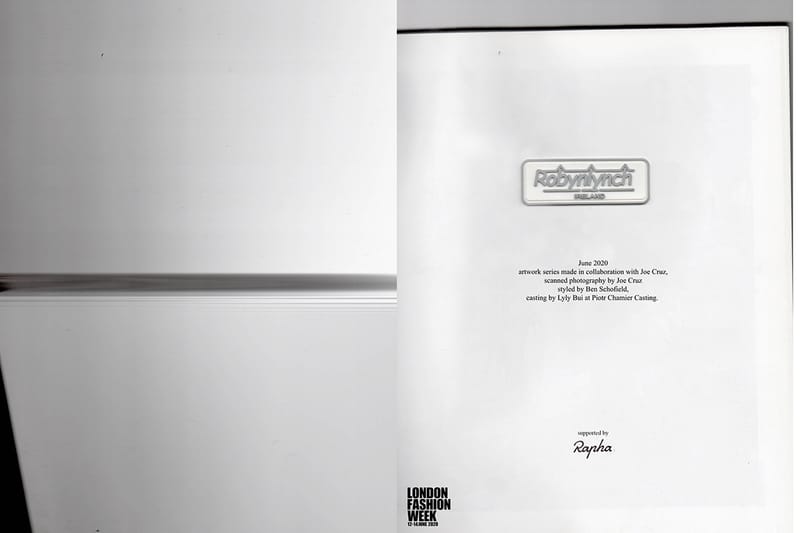 Browns / Robyn Lynch
The influence of cycling extends beyond Lynch's collaboration with Rapha, and into her SS21 collection. "The chapter wasn't closed, it needed a bit more," Lynch says. "I looked at sponsorships and graphic logos for SS21. I took all the companies that had sponsored me from the past, from the people who did my embroidery in SS20 and the people who built the stands for my BA collection, all the way up to my parent's company." These different companies, all of which are important parts of the community around Lynch, are represented with their logos appearing on cycling jerseys throughout the SS21 collection.
The lookbook to accompany the SS21 collection also has its roots in Lynch's work with Rapha. While working with the label, Lynch was given access to its library, which included a book by Irish photographer Taz Darling shot during the Tour de Ireland in 2008. These images have then been used as the backdrop for the lookbook. "They're lovely, there are so many hidden details in them that I find funny," Lynch says, "whether it's an orange carton on the floor or the expressions of people in the background."
"This year has given me the confidence to just do what works for me, instead of having to follow the traditional path."
Understandably, the past year has been up and down for Lynch. She's quick to pay tribute to Browns, which has helped her through its work on the Rapha collaboration. "It's the way they support young designers, from their payment terms right down to the tiny things," Lynch says, "their support for young designers at this time has been so great, literally when I needed it the most." COVID-19 and lockdown have also had positive impacts on the way Lynch works.
As well as catalyzing her collaboration with Rapha, the pandemic and subsequent lockdowns over the past year have led Lynch to looking at how she operates. "COVID has helped me to work smaller and work more project-based," Lynch adds, "it's given me the confidence to work differently. It was always obvious for a small brand that it's not sustainable when you're on that platform, to be making so many looks and working from your kitchen. This year has given me the confidence to just do what works for me, instead of having to follow the traditional path."
Lynch's Rapha collaboration and SS21 collection are the first result of this new way of working, marking two smaller collections closer together. They also feature new directions, with Lynch keen to point out a new relaxed silhouette coming from her Rapha collection. At the root of all the designs, however, is Lynch's nostalgic vision of Ireland.
Source: Read Full Article