Spare a thought for our feet, which have been through a lot these past few years. We've been through the trend of flimsy sneakers being worn for sport, the COVID-linked "ugg boot foot" and the popularity of shoes such as mules that barely stay on the foot unless one grips their toes with maximum force, or moves around with a shuffle more than a gait. Podiatrists must cringe when they see these shoes in stores but, also, they stand to benefit, at least business-wise.
But here is a trend that both fashion lovers and foot doctors can get around: the Mary Jane. Like sneakers, they never really go away but if their prominence on the European runways is anything to go by, they're one of the key footwear styles of the coming season.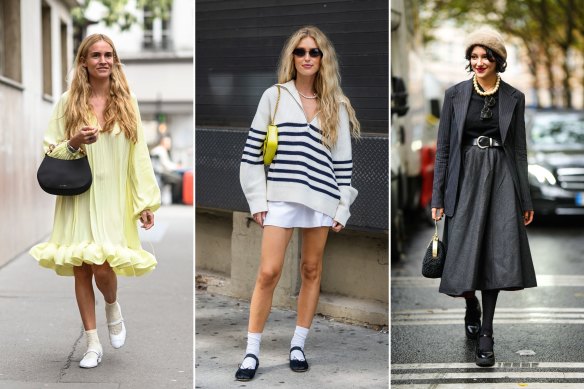 Mary Janes, on the streets of Paris and New York (centre), show a variety of styling options, from prim to punk.Credit:Getty
When we think Mary Janes, we may think of school uniforms, or Alice in Wonderland, or 1960s' modelling icon Jean Shrimpton (not at the Melbourne Cup, mind you, she didn't wear Mary Janes that day, but she was known for the style more generally). That is to say, a vision of shoes that encloses and embraces the foot in such a way that conjures security and stability, with just a hint of coquettishness. And isn't that what we're all seeking in these post-COVID times?
Annie Abbott, founder of Australian handmade shoe brand Habbot, loves the Mary Jane "both for its 'tailored' aesthetic, and its anatomical benefits. "We look beyond the traditional 'dolly' shoe approach and go for a more creative take, which gives us lots of scope for a more sophisticated result and there is no denying the functional characteristics make it a popular seller," Abbot says.
On the runways, the look was indeed more directional. At Dior, the Mary Jane, which traditionally has a rounded toe and a single (or double) ankle strap, snaked all the way to the knee, creating a hybrid sandal/boot that would require alarms to be set 15 minutes earlier of a morning just to account for the buckling (a rear zip was not sighted but would make these eminently more commercially viable for the style conscious and time poor). Mary Janes also popped up at Prada, hot on the heels (straps?) of men's fashion week, where they were embraced by Bally, Fendi and JW Anderson, to name a few, and have been a part of Gucci's roster for some time. Think Harry Styles on the red carpet at the Brit awards, or Timothee Chalamet at … OK, so maybe he hasn't been photographed in a pair yet, but he should be.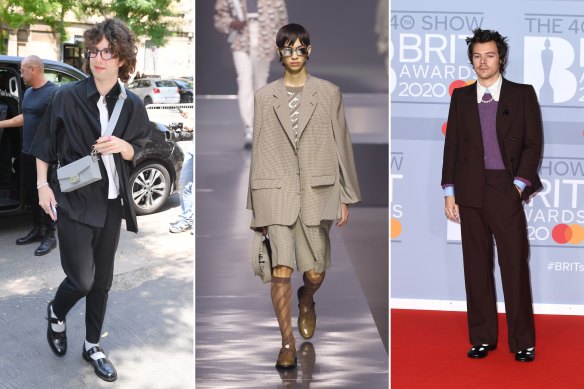 Mary Janes (from left) on the streets of Milan, the catwalk at Fendi, and on Harry Styles.Credit:Getty
As for whether we are likely to see the Mary Jane filter through to the mainstream, Gino Volpe, product manager at men's shoe brand Julius Marlow, says their customer is a lot slower to embrace trends. "We used to struggle to sell loafers, and now they're taking off," he said to illustrate how the style could be embraced by "average" men in two to three seasons' time.
Abbot says regardless of the style, some basic principles will ensure the shoe flatters, not falters. A lower strap will lengthen the leg line, and a wider strap or multiple straps and a longer toe shape will "distract the eye and lead to a [modern look] that doesn't 'cut the leg off' at one single unflattering spot".
As for styling such a feminine-leaning shoe, an edgier outfit can provide some balance, says Abbott: "A tailored, wide-leg pantsuit would be my favourite approach for a dressed-up look, and denim jeans and a boxy tee for a more casual, eclectic approach."
Podiatrist Dr Helen Banwell, of the University of South Australia, says although the Mary Jane's strap is one of its main selling points in terms of foot health, "sometimes it's a bit too close to the toes, so it doesn't really hold the shoe on the foot".
"Some Mary Janes have a support inside the shoe, as opposed to a flat-soled ballet shoe. As you get older, that support is more and more essential," Banwell says.
She also favours a Mary Jane with a rounded toe. "A really pointy or too small 'toe box' will alter the way big toe moves up to 30 per cent – that's how we propel ourselves forward. We need to be able to bend our big toe enough to propel ourselves forward."
Make the most of your health, relationships, fitness and nutrition with our Live Well newsletter. Get it in your inbox every Monday.
Most Viewed in Lifestyle
From our partners
Source: Read Full Article